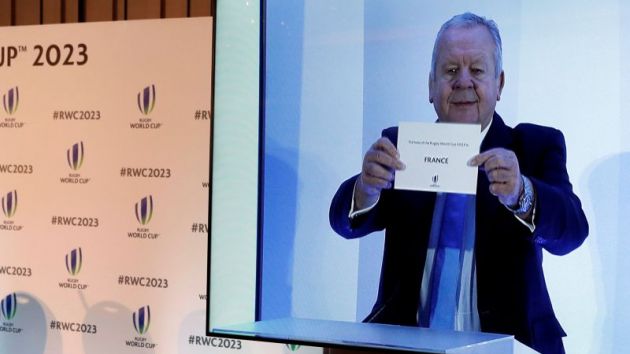 World Rugby members have voted for France to host the 2023 Rugby World Cup, despite an earlier recommendation that South Africa be selected.
A bid from Ireland, which has never hosted the rugby union showpiece, was also rejected.
The announcement, which was made in London, will see France host the 10th edition of the event after receiving the required majority of 20 from the 39 votes cast by the global governing body's council.
Ireland were eliminated in the first round of voting after receiving just eight votes, before France clinched the hosting rights in the second round with 24 votes to South Africa's 15.
South Africa had looked set to land the competition when World Rugby's independent evaluation report at the end of last month unanimously recommended the country's bid over that of Ireland and France.
It was the first time that World Rugby had commissioned and made public such a report, which sparked an offensive from South Africa's rival bidders. Bernard Laporte, president of the French Rugby Federation (FFR), described the report as "nonsense", while Philip Browne, chief executive of the Irish Rugby Football Union (IRFU), wrote a letter to World Rugby outlining his complaints.
The 2023 Rugby World Cup will mark the third time that the tournament has been held France, which previously hosted the event in 1991 and 2007.
World Rugby chairman Bill Beaumont, who described the selection process as the "most transparent and comprehensive" in the organisation's history, said: "We were fortunate to have three great bids. Two of the candidates will be extremely disappointed obviously. I am delighted for France. It's going to be a really exciting tournament.
"We feel for the first time that within World Rugby we have put the results of our evaluation out to the general public."
Mark Alexander, president of South Africa Rugby, said: "We are bitterly disappointed at this decision and would like to apologise to the people and government of South Africa for raising their hopes. We did everything in our power to bring the tournament to South Africa and we expected to have that right confirmed.
"We produced a compelling bid document that earned the unanimous recommendation of the Rugby World Cup Ltd board. That recommendation was questioned last week by rivals, but endorsed a second time by World Rugby last week. However, the view of the experts and World Rugby's leadership was overturned by World Rugby Council members, who may have had other factors to take into account.
"We cannot hide our desolation but, for the sake of rugby we wish the 2023 tournament hosts every success."