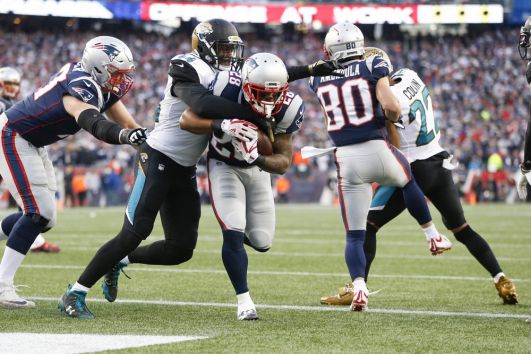 The National Football League (NFL) has awarded the rights for its Thursday Night Football (TNF) games to pay-TV broadcaster Fox Sports for the next five seasons.
According to ESPN's Darren Rovell, Fox will pay more than US$660 million for each year of the agreement, representing a significant increase on the combined annual US$450 million NBC and CBS paid to air TNF games for the past two seasons.
The deal, which was announced by NFL commissioner Roger Goodell and Peter Rice, president of 21st Century Fox, includes 11 games between weeks four and 15 - excluding Thanksgiving night - of the NFL season, starting from 2018.
Coverage will be broadcast on Fox, simulcast via NFL Network, and distributed in Spanish on Fox Deportes. NFL Network will also exclusively televise seven games next season, with Fox producing the entire slate of 18 matches.
The TNF rights will be added to Fox's existing NFL National Football Conference (NFC) Sunday package, and Rovell reported that the new agreement will result in Fox paying the NFL a total of US$1.75 billion each year.
Commenting on the new deal, Goodell said: "This agreement is the culmination of over ten years of strategic growth around Thursday Night Football, a period during which this property has grown from a handful of late season games on NFL Network to a full season of games and one of the most popular shows on broadcast television with additional distribution via cable and digital channels.
"As one of the leaders in sports television and a recognised innovator of NFL game broadcasts for many years, we're excited to be extending our partnership with Fox Sports, one of our most trusted and valued partners, to include Thursday Night Football."
The move will also allow Fox and the NFL to each expand their digital rights, enabling the former to distribute both TNF and its Sunday games to Fox subscribers across various digital platforms including mobile phones for the first time.
"Football is in our blood at Fox and we understand that nothing beats the NFL when it comes to television that captures people's attention," added Rice. "Our historic relationship with the NFL dates back to the earliest days of Fox, and we couldn't be more excited to expand our deep and enduring partnership to include prime-time games on Thursday night."
The 2017 NFL season reaches its conclusion on Sunday, when defending champions New England Patriots will be aiming to win their sixth Super Bowl against the Philadelphia Eagles in Minnesota.