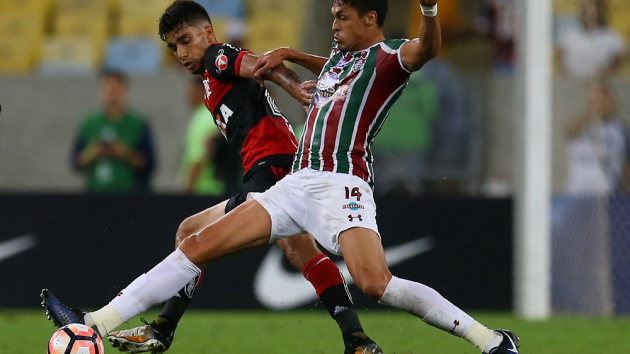 Brazilian top-tier soccer side Fluminense have announced a sleeve sponsorship deal with Mackenzie Presbyterian University.
The Brazilian institution will have its logo on the Rio de Janeiro-based club's shirts until the end of 2017.
Mackenzie, which has facilities in Rio, will begin its partnership with the Tricolor team on 15th November.
The financial terms of the deal were not disclosed.
The news comes after Fluminense agreed a short-term shirt sponsorship deal with NBC Universal-owned American theme park Universal Orland Resort in October. Universal was then was replaced by retail price comparison site Zoom in November, which will continue to be the main shirt sponsor of the side until 2018.
"We think it is very important to associate the Mackenzie brand with Fluminense, a great club in Rio, which has visibility and recognition throughout the country," said Daniel Grandolfo, marketing manager at Mackenzie. "We have plans to expand our operation in Rio and this association with Fluminense is part of that strategy."
"We are extremely pleased with the arrival of Mackenzie, which has many years of experience and a huge number of students," added Marcus Vinicius Freire, chief executive of Fluminense.
"We will spread the brand throughout Brazil and we have other goals, such as bringing discounts to members who want to continue betting on their progress. We will continue to work hard to get new revenue for the club and we are making significant progress."
Fluminense finished in third place in 2016/17 in the Campeonato Brasileiro Série A, but are currently 14th in the league in 2017/18 after claiming only one win in their last six games. They lost 3-1 away to Cruzeiro Esporte Clube on 12th November, and will face league leaders Sport Club Corinthians Paulista in São Paulo on Wednesday.