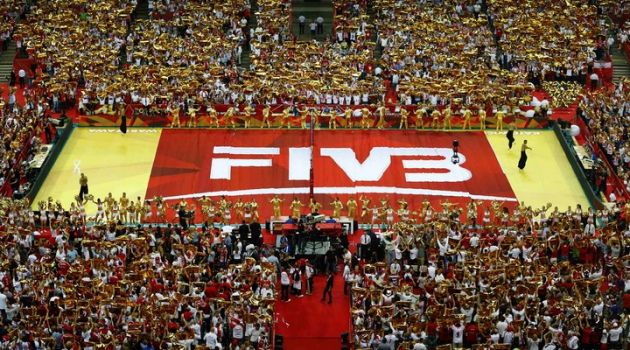 The International Volleyball Federation (FIVB), the global governing body for the sport, has launched a new competition called the Volleyball Nations League, which is set to debut in 2018.
The league - a joint venture between the FIVB, IMG and 21 national federations - will feature both men's and women's competitions, and will comprise 12 core teams and four challenger teams who will compete in a round robin format. Each team will play a minimum of 15 matches, with a total of 130 games to be played throughout the season. Every core nation will host at least one pool event in order to showcase the competition around the world.
In collaboration with IMG, the FIVB will take complete control of the content production for one of its tournaments for the first time. The organisation also says that it plans to ensure in-stadium interaction by implementing 'a new concept called active engagement', which will ensure 'fans are involved in every rally'.
The announcement was made in the French capital of Paris, where the FIVB was celebrating its 70th anniversary.
"This is a pivotal moment in the future of our sport," said Ary Graça, president of the FIVB. "The Volleyball Nations League is the most important competition in the FIVB's history and will revolutionise how volleyball is presented; making it more fan-centric and placing our fans, both inside and outside the stadium, at the very heart of the action.
"The FIVB has enjoyed great success over the last 70 years; volleyball has grown to become one of the most popular and widely practised sports in the world. But we must always look forward and find ways to evolve and innovate as we aim to become the world's number one family sport. The Volleyball Nations League will help us to achieve our vision and set the standard for athlete and viewer experience."
Ioris Francini, co-president of WME|IMG, added: "This is a very exciting development for the FIVB and we are delighted to play a pivotal role in the Volleyball Nations League. This unique initiative and format heralds a new era for the sport and will produce an even better experience for all concerned, from the teams and players to fans and viewers watching on various media platforms.
"Our role in producing live matches, along with distributing the media and digital rights, cements our longstanding relationship with the FIVB, which dates back to 2009. Volleyball has a very bright future."