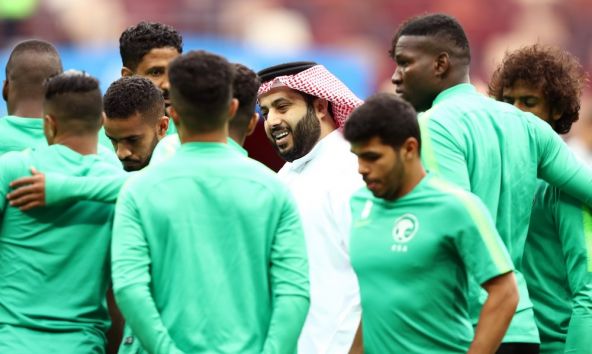 Saudi Arabia has vehemently denied accusations that it is behind BeoutQ, a pirate TV service illegally distributing multi-billion-dollar soccer content including the ongoing Fifa World Cup.
BeoutQ, which has been made available to Saudi viewers via satellite operator Arabsat, has been streaming the entirety of the international soccer tournament in the Middle East and North Africa (MENA) despite the fact that Qatar-backed BeIN Sports is the rights holder in the region.
The pirate channel was born out of a trade ban between Saudi Arabia and Qatar, which means fans in the former country are not able to watch BeIN. This has resulted in the World Cup not being officially broadcast in Saudi Arabia, despite its national team featuring at the tournament for the first time since 2006.
BeIN – along with US Spanish-language broadcaster Telemundo Deportes - has since complained to Fifa, soccer's global governing body, which confirmed earlier this week that it was considering taking legal action against BeoutQ.
However, a senior official in Saudi Arabia has now dismissed claims made by BeIN that the service is operating out of his country, saying that authorities have confiscated thousands of pieces of equipment being used to illegally watch premium soccer content.
Saud al-Qahtani, a Saudi minister and a royal court advisor, said the Arab nation's soccer body has now submitted a complaint of its own to Fifa, outlining what he described to the Bloomberg news agency as 'transgressions against the kingdom and its leadership' by BeIN. He also called for an end to BeIN's monopoly over the broadcasting rights for major competitions in the Middle East.
'The ball is in the court of Fifa, international federations and organisers of international competitions,' al-Qahtani said in an email to Bloomberg.
Al-Qahtani added that piracy is an 'international problem', and said that 'Saudi Arabia respects the importance of protecting intellectual rights and abiding by international conventions.'
The denial comes after Uefa, European soccer's governing body, released a statement on Thursday acknowledging for the first time that a channel operating out of Saudi Arabia had pirated the Uefa Champions League and Europa League during the 2017/18 season. Fifa, meanwhile, is yet to publically say where it believes BeoutQ is based.
Uefa's statement sparked a cagey exchange on Twitter, with Saudi Arabia's sports minister Turki al-Sheikh launching an astonishing attack on the governing body's president, Aleksander Ceferin, who he claims is a 'man of many faces' whom he has previously refused to meet.
Al-Sheikh also said that he is a person 'who has nothing to hide', before stating that he believes Uefa 'deserves a better leadership that could maintain its gains.'
Ask your friend Olivier Guiguet about his request for me to meet you in Zurich & Russia which I refused to agree to. You prefer meeting behind closed doors, but I am a person who has nothing to hide.
l believe the @UEFA deserves a better leadership that could maintain its gains.

— تركي آل الشيخ (@Turki_alalshikh) June 21, 2018
One hour after the rant, Uefa issued a reply on its official account following Croatia's 3-0 win over Argentina.
'Uefa was quite surprised by a tweet of @Turki_alalshikh, as the Uefa President has never heard of this person and he therefore would have no reason to meet him,' Uefa's tweet said.
UEFA was quite surprised by a tweet of @Turki_alalshikh, as the UEFA President has never heard of this person and he therefore would have no reason to meet him.

— UEFA (@UEFA) June 21, 2018