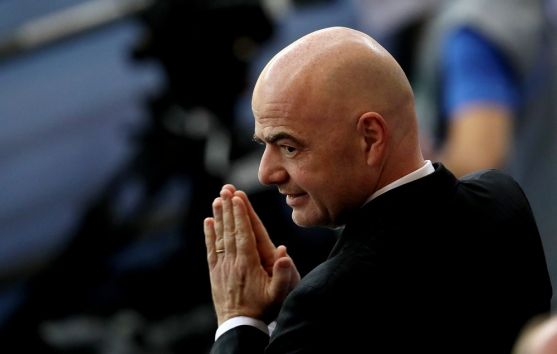 Fifa has confirmed that it is taking legal action in Saudi Arabia against BeoutQ, a pirate TV service operating in the Middle East and North Africa (MENA) that has been illegally distributing the ongoing World Cup.
Soccer's global governing body has previously acknowledged that BeoutQ was stealing coverage of the international tournament and said it was considering taking legal action against the channel, but this is the first time Fifa has recognised Saudi Arabia's role in the service.
'Fifa has observed that the pirate entity named 'BeoutQ' continues to use illegally the 2018 Fifa World Cup broadcast signal,' an official statement read.
'Accordingly, Fifa has engaged counsel to take legal action in Saudi Arabia and is working alongside other sports rights owners that have also been affected to protect its interest.'
Fifa is one of a number of sporting organisations that have complained of BeoutQ pirating premium content, with Uefa, the Formula One motorsport series and world tennis bodies the ATP and International Tennis Federation (ITF) all voicing concerns about the channel.
Saudi Arabia has consistently denied its involvement in BeoutQ, and the country's ministry of media released a statement last week condemning suggestions that it has been complicit in the operation of the service. Although Fifa has now acknowledged the Arab nation's contribution to BeoutQ, it has also called on other countries to join the fight against piracy.
'Fifa urges the authorities of Saudi Arabia and of the different countries where these illegal activities have been observed to support us in the fight against piracy,' Fifa's statement added.
One of the biggest victims of BeoutQ has been Qatar-back broadcasting giant BeIN Sports, which has had its World Cup feeds stolen throughout the tournament.
BeIN is likely to have been targeted because of the current trade ban between Saudi Arabia and Qatar, which means fans in the former country do not have access to BeIN. This has resulted in the World Cup not being officially broadcast in Saudi Arabia, with BeoutQ instead illegally offering the same content being shown on BeIN via Riyadh-based satellite provider Arabsat.