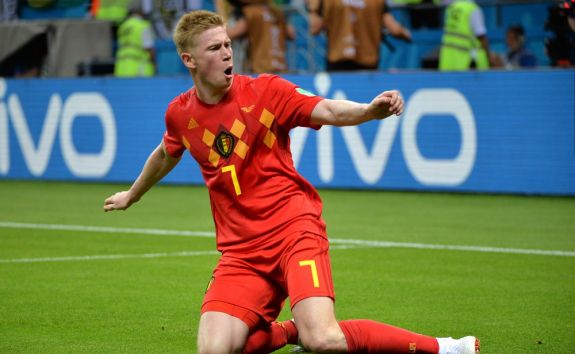 Fifa chief commercial officer Philippe Le Floc'h has moved to dismiss suggestions that the plethora of Chinese companies sponsoring the 2018 Fifa World Cup are merely plugging a gap left by western brands.
The world soccer governing body's struggles to attract sponsors for the tournament in Russia were well documented, with many citing the organisation's corruption scandal in 2015 as they key reason brands opted not to be associated with the competition.
World Cup sponsorship programs have traditionally been filled by more familiar brands from the west or Japan, but this year has seen unprecedented Chinese involvement with five companies backing the tournament.
In total, only 20 of the 34 commercial spots were sold ahead of the World Cup with the likes of Emirates, Castrol, Continental, Johnson & Johnson and Sony all deciding not to return to sponsor this year's tournament after supporting the 2014 edition in Brazil.
Le Floc'h admitted that there "maybe" had been a time when western brands were dissuaded by the corruption scandal centring around ex-Fifa president Sepp Blatter, but added that it would be wrong to ascribe the fallout as the reason for China's increased interest in soccer's flagship tournament.
"We never spoke to anybody telling us 'You know what, you guys are toxic. We don't want to work with you'," Le Floc'h told the Reuters news agency.
"It's just that economy wasn't that great, it's a heavy investment [and] you had a shift of world economy and some Asian companies, or Chinese in particular, are looking for the best vector of communication to push the drive to the world with a global footprint.
"There was a good fit. So sometimes you need to have the right constellation of events happening to work. So we're very happy with the way we are."
The presence of Chinese companies at the World Cup is still in its relative infancy, with solar panel manufacturer Yingli Green Energy signing on as China's first ever World Cup sponsor in 2010.
Since then, real estate conglomerate Wanda has become one of Fifa's seven global partners until 2030, while Hisense, Vivo and Mengniu Dairy are World Cup sponsors this year, with Yadea involved as a regional partner.
"Chinese companies are eager to learn and expand and develop and they're also very eager to develop football in China which is what we want to do," Le Floc'h added.
Wanda Sports Group chief executive Yang Hengming lent his support to Le Floc'h's theory, stating that growing soccer and sport in general in China is one of the company's key objectives.
"Wanda is the first Chinese top partner with Fifa and we're pretty proud of that and we're very happy about it," said Hengming, also speaking to Reuters.
"We are happy to see other Chinese companies follow our footsteps, and we believe it will be good for the sport in China to develop as more and more Chinese companies are standing behind the scene just like we do."