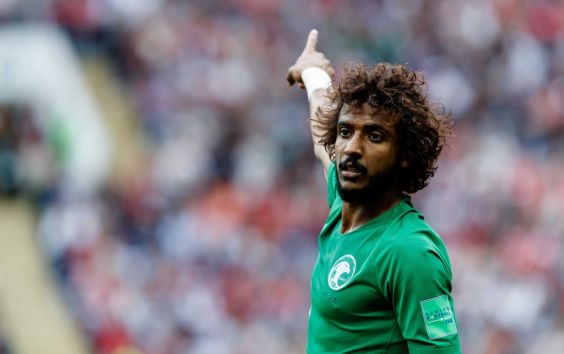 Fifa has confirmed that it is considering taking legal action against Saudi TV station BeoutQ, which it claims has been illegally broadcasting the 2018 World Cup in the Middle East.
The network has been described as a 'pirate' channel and soccer's global governing body released a statement on Friday reminding BeoutQ viewers that the broadcaster is not in possession of rights for the tournament. Despite that, BeoutQ has been pressing ahead with plans to show all 64 games from the competition.
Qatar-backed broadcasting giant BeIN Media Group owns the rights in the Middle East and North Africa (MENA) to the World Cup, but has reported BeoutQ to Fifa for stealing its signal and broadcasting it as its own.
BeIN has integrated a ticker on its broadcasts showing Fifa's statement in an attempt to warn BeoutQ customers that they are watching a stolen feed of the World Cup. However, images on Twitter show that BeoutQ has since put its own information ticker over that of BeIN's in an effort to conceal the Fifa statement.
'Fifa is aware that a pirate channel named BeoutQ has illegally distributed the opening matches of 2018 Fifa World Cup in the MENA region,' the statement on Fifa's website said.
'Fifa takes infringements of its intellectual property very seriously and is exploring all options to stop the infringement of its rights, including in relation to action against legitimate organisations that are seen to support such illegal activities.
'We refute that BeoutQ has received any rights from Fifa to broadcast any Fifa event.'
The illegal coverage has grown out of a trade ban between Saudi Arabia and Qatar, which means fans in the former country are not able to watch BeIN. This has resulted in the World Cup not being officially broadcast in Saudi Arabia, despite its national team featuring at the tournament for the first time since 2006.
Fifa reportedly tried to broker a last-minute deal so that Saudi fans could watch the tournament, but nothing has been agreed.
Instead, Saudi viewers were given access to the BeoutQ feed which illegally offers the same content available on BeIN, which is reported to have lost as much as 40 per cent of its subscriber base as a result of losing the 900,000 customers it had in Saudi Arabia.
The long-running episode is one of several issues encountered by BeIN during the World Cup. The broadcaster also recently announced plans to show 22 matches on its free-to-air channels in the MENA region, excluding Saudi Arabia, ending a dispute that saw Egyptian government demand Fifa give its state broadcaster World Cup rights.