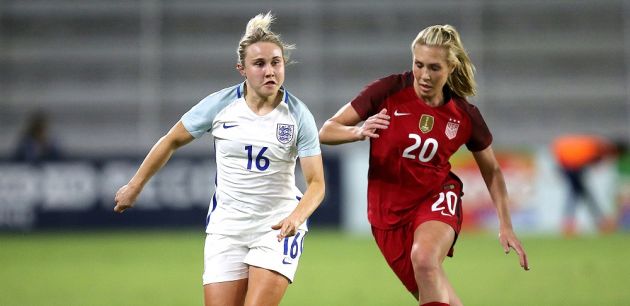 Gianni Infantino, the president of soccer's global governing body Fifa, will seek the approval of his executive council for a new international women's soccer league this week, according to reports.
The New York Times and Sydney Morning Herald say that the proposed competition, which aims to increase the visibility, quality and appeal of women's soccer, will pit 16 of the world's top national teams against one another, and could commence as early as November 2019.
The 16 teams will be divided into four groups and play mini tournaments before the winners face off in semi-finals and a final to determine a champion.
The top teams will only play in an annual November window, which could lessen the effect of the competition on clubs and other longstanding international tournaments. The smaller regional leagues will play matches in a spring window.
There are also plans to add four regional leagues to encourage global development of the women's game, which would allow the best performers from those regions a chance to win promotion to the top division in a system of promotion and relegation.
Infantino, who needs the support of the majority of Fifa's 211 member nations next year when he runs for re-election, included investment in the women's game as part of his presidential election campaign in 2015. Last year, Infantino first mentioned the possibility of a new competition to supplement the Women's World Cup at Fifa's congress in Bahrain.
The Fifa president is understood to have discussed plans for the women's competition at a summit meeting in Mauritania last month, with details anticipated to emerge from this week's Fifa meetings in Colombia.
"We are also thinking of creating a world women's football league so that all federations can participate, because we should not lose sight of the fact that 50 percent of the world's population is female," Infantino reportedly said at a meeting in Mauritania.
Women's soccer currently only has two global tournaments every four years; the Fifa Women's World Cup national team tournament and the Olympic Games. Fifa expanded the Women's World Cup to include 24 teams in 2015, offering opportunities to more national teams but also exposing the wide gap between established soccer powerhouses like Germany and newcomers such as the Ivory Coast.
Women's soccer has recently witnessed the growth of tournaments like the four-nation, US-hosted She Believes Cup, and the Algarve Cup in Portugal.
Concerns are that a Fifa-branded women's league with national teams will make the quadrennial tournaments less noteworthy. No financial projections or a commercial strategy for the new league have been announced.