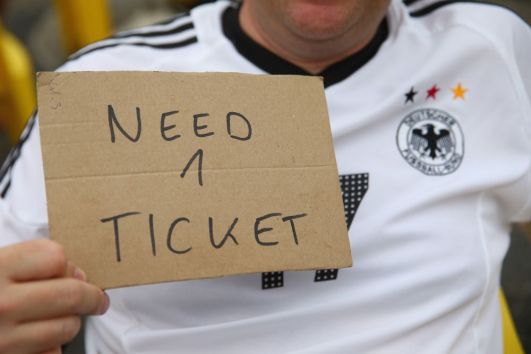 World soccer governing body Fifa has filed a criminal complaint in Switzerland against online ticketing platform Viagogo in a bid to crack down on unauthorised, inflated World Cup sales.
Fifa announced it has joined other parties in filing criminal complaints against alleged 'opaque and deceptive business conduct' by Viagogo in the so-called secondary market.
The legal action filed on Monday was 'based on a breach of the law on unfair competition against Viagogo AG with the public prosecutor's office in Geneva,' the governing body said in a statement.
'Fifa's ultimate objective in the fight against the secondary ticket market is to prioritise the safety and security of fans and enforce a fair 2018 Fifa World Cup ticketing pricing scheme,' it said.
Fans who buy through unofficial platforms, including Viagogo, for World Cup games in Russia face being denied entry to stadiums, with tickets identified as being bought through unauthorised sellers being cancelled.
World Cup tickets were still available on Viagogo's website as of Tuesday, with buyers facing the prospect of paying more than double face value for the 14th June opener.
A category 3 ticket, the cheapest available to non-Russian residents, for Russia vs Saudi Arabia in Moscow was priced at US$480. The same ticket bought originally through Fifa's website would cost US$220.
'Prices are set by sellers and may be lower or higher than face value. Prices exclude booking and delivery fees,' Viagogo notes on its World Cup sales page.
Viagogo is a platform for holders of tickets for sports events, concerts and shows worldwide to re-sell, typically at a profit. It has official commercial relationships with some sports teams.