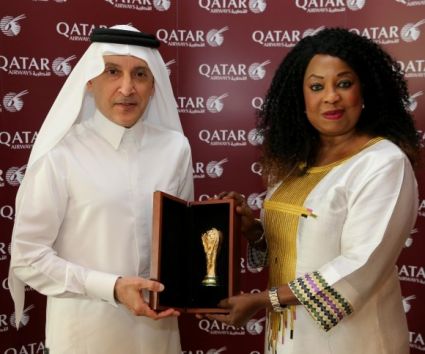 Qatar Airways has been named as an official partner of soccer's global governing body, Fifa, until 2022.
As part of the sponsorship package, the carrier will be the organisation's official airline for its 2017 Confederations Cup, the annual Club World Cup, the Women's World Cup in 2019 and the next two editions of the flagship World Cup tournament, which will be hosted by Russia in 2018 and Qatar in 2022.
Qatar Airways will have extensive marketing and branding rights at the next two World Cups. It will also have a strong brand presence at smaller Fifa tournaments such the under-20 World Cup and the Futsal World Cup, while the sponsorship additionally covers the Fifa Interactive World Cup online gaming tournament.
The carrier joins Coca-Cola, Gazprom, Wanda Group, Adidas, Visa and Hyundai as official partners of Fifa.
The financial terms of the five-year deal with Qatar Airways were not released but a Fifa press release states that it 'represents one of the biggest sporting sponsorships in the world and the largest in the history of Qatar Airways'.
Fifa has targeted a US$100 million surplus for the end of the four-year cycle encompassing the 2018 World Cup, and is anticipating a US$1.07 billion profit in the year of that tournament after a loss of US$391 million in 2016 and a projected US$489 million loss in 2017.
"Fifa is delighted to partner with the world's fastest-growing airline, Qatar Airways," said Fatma Samoura, Fifa's secretary general. "Known for introducing industry firsts, Qatar Airways is an ideal partner for Fifa as we prepare for the first-ever World Cup in the Gulf region, the 2022 Fifa World Cup in Qatar. We look forward to working hand in hand with Qatar Airways to promote Fifa competitions and football around the world."
Akbar Al Baker, chief executive of the Qatar Airways Group, added: "Qatar Airways understands the power of sport in bringing people together in the spirit of friendly competition. Fifa, as the governing body of the world's most popular sporting tournament, the Fifa World Cup, understands the power of football's popularity, and as such is a natural partner for Qatar Airways."