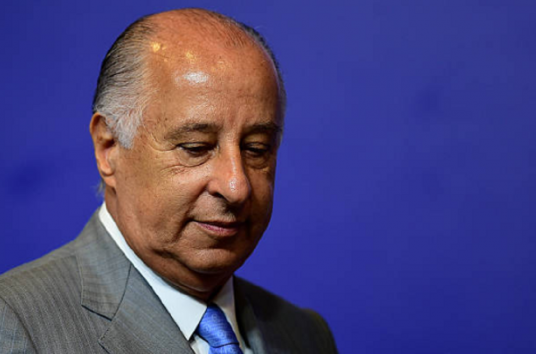 The suspended president of the Brazilian Football Confederation (CBF), Marco Polo Del Nero, has been handed a life ban from all soccer-related activities by Fifa for bribery.
Soccer's global governing body said its ethics committee issued its ruling after an investigation against the 77-year-old was opened in November 2015.
Fifa said that Del Nero had been investigated over 'schemes in which he received bribes in exchange for his role in awarding contracts to companies for the media and marketing rights to various football tournaments'.
These competitions included the South American confederation Conmebol's Copa América and Copa Libertadores, as well as the CBF's Copa do Brasil.
The adjudicatory chamber agreed with the recommendations of the investigatory chamber and found Del Nero guilty of breaches of the Fifa code of ethics relating to bribery and corruption, offering and accepting gifts and other benefits, conflicts of interest, loyalty and general rules of conduct.
Del Nero's life ban excludes him from all soccer-related activities at both national and international level, and he has also been fined CHF1 million (US$1.02 million).
The news comes after the CBF elected Rogério Caboclo as its new president earlier this month. Caboclo, seen to be an ally of Del Nero, was the only candidate in the election and will serve a four-year term in office from April 2019 to April 2023.
In Decembe, Del Nero was provisionally banned from all soccer activities for 90 days by the Fifa ethics committee, with the suspension having been extended for a further 45 days in March.
Del Nero is a former member of Fifa's executive committee. In August 2016, the organisation's ethics committee confirmed that it was formally investigating Del Nero, who was among a host of officials and executives indicted in 2015 as part of the US investigation into soccer corruption.
His predecessors as CBF president, Ricardo Teixeira and Jose Maria Marin, were also indicted for similar offences. Teixeira has not been extradited, while Marin is awaiting sentencing after being found guilty in December.