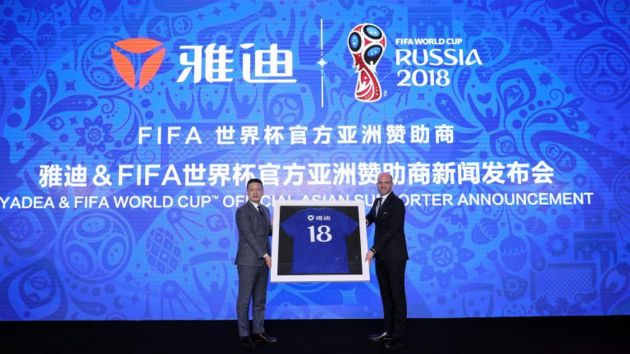 Fifa, soccer's global governing body, has announced that Chinese brand Yadea will be a regional supporter of this summer's Fifa World Cup national team tournament in Russia.
The company, which specialises in the production of electric-powered motorcycles, bicycles and scooters, will receive a range of benefits, including LED exposure during the competition, access to tickets and brand association rights for its region.
Yadea is the latest in a long line of Chinese companies that have signed up for the World Cup, joining dairy products brand the Mengniu Group, smartphone manufacturer Vivo, consumer electronics company Hisense and the Wanda Group conglomerate.
"We are pleased to welcome Yadea to our line-up of regional supporters and are looking forward to working with them so that we can reach more football fans in such a major region for Fifa," said Fifa's chief commercial officer, Philippe Le Floc'h. "Yadea appeals to young people and to a more sustainable lifestyle, two aspects that are extremely important to us."
"It is a great honour for Yadea to join as Asian regional supporter of the Fifa World Cup," added Liu Yeming, president of the Yadea Technology Group. "Being one of the most watched sport events, the Fifa World Cup fits seamlessly with Yadea's strategy of internationalisation and premium positioning.
"Yadea will set its regional promotional campaigns in motion in parallel to the 2018 Fifa World Cup in order to engage with fans, so that more and more people can have access to premium-quality, electric-powered motorcycles, bicycles and scooters and enjoy a greener life."
The 2018 Fifa World Cup will mark the first time that the tournament has been staged in Russia, and is scheduled to take place from 14th June to 15th July.