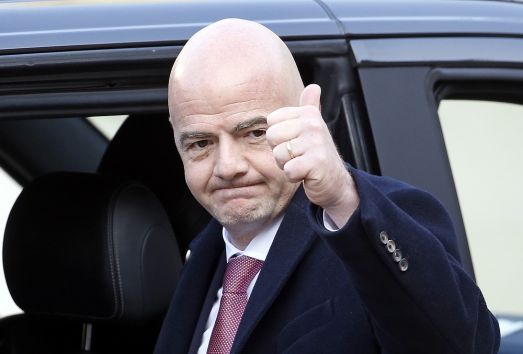 Soccer's global governing body, Fifa, has reported a net loss of US$191.5 million for 2017 following the release of its 2017 financial report, which was approved at the organisation's ruling council in a meeting in Bogota, Colombia.
The report found that Fifa was US$300 million over budget, which the governing body said was due to "successful sales and effective operations", and that the result will lead to "sufficient financial resources for football development".
Expenses are said to be "well under control" with savings against the budget totalling US$180 million, and Fifa says the report proves a "healthy and sustainable financial position."
A positive result in excess of US$100 million is predicted to be achieved for the 2015-2018 World Cup cycle.
The 2017 loss is lower than forecast by the governing body in its 2016 financial report, which predicted a US$489 million loss before tax and financial outturns.
Fifa says 2017 was a "successful year for all key financial parameters'' with higher than expected revenues from sales of broadcasting, marketing and licensing rights.
The organisation said that, of the total revenue of the US$5656 million budgeted for the 2015-18 cycle, US$555 million had already been a contracted one year prior to the end of the cycle, with significant revenue items including World Cup tickets and hospitality yet to be accounted for.
A new revenue standard adopted by the governing body means that the vast majority of revenue and expenses related to the 2018 World Cup will be allocated to the current financial year, which ought to produce a very large surplus.
Sports news outlet Insideworldfootball reports that soccer governance costs came in below budget due in part to Fifa's Early Warning System match-fixing detection operation being outsourced. It was announced in early 2017 that Fifa had hired the specialist firm Sportradar in place of its own detection division.
Last year's international soccer tournament, the Fifa Confederations Cup, suffered from low ticket sales, producing revenue of only US$22 million, while expenses for the competition were put at US$142 million.
However, the 2017 Club World Cup, an annual men's soccer competition that pits seven sides from six confederations in a straight knock-out format, made larger revenues than expected, with expenses at US$21 million, while revenue was US$37 million.
Meanwhile, Fifa has said it expects to earn US$6.65 billion in the four-year financial cycle leading up to the 2022 World Cup in Qatar, despite a US$75 million drop in ticket and corporate hospitality sales compared to 2015-18 due to the ''smaller stadiums'' used for the national team event.
The governing body says that the low number of venues and reduced local travel requirements associated with Qatar 2022, as well as the "restructuring of operational management" are helping to contain costs. Overall savings in comparison to this year's tournament are put at about US$300 million.
Fifa's 2019-2022 budget projects rises of more than US$400 million in each in broadcasting and marketing income over the 2018 World Cup in Russia.
The organisation plans to spend US$6.46 billion from 2019-2022, including a US$250,000 annual raise for member associations, with each to get US$1.5 million annually, and says it expects to end the 2022 World Cup with reserves of US$1.9 billion.
"I am very pleased to see that Fifa is able to deliver on its promises," said Gianna Infantino, president of Fifa. "We had committed to restoring trust in the organisation and boosting investments for the development of football worldwide. This is now a reality. Today, Fifa's financial situation is very solid thanks to the growing interest from our partners. This has allowed us to roll out our Forward development programme successfully, raising the support to all member associations and confederations to unprecedented levels."