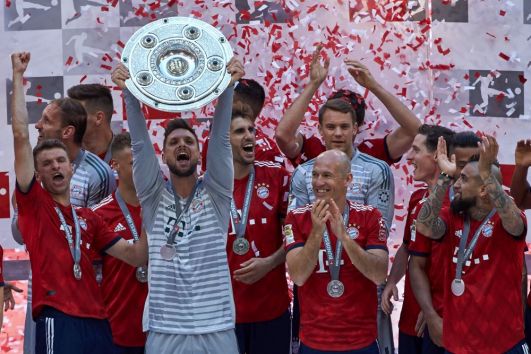 German soccer giants FC Bayern Munich have announced the launch of FCB Digital & Media Lab GmbH, a new multimedia subsidiary that will work to hone the club's digital expertise and offer data and media-related services to third parties.
The Bundesliga champions have said the new unit will be operative from the start of the 2018/2019 season, with Stefan Mennerich, the club's director of media, digital and communication, assuming the role of managing director.
FCB Digital & Media Lab will essentially incorporate Bayern's existing editorial activities across social media, website, TV and print, as well as their production, digital marketing, CRM, digital and IT and technology divisions. It will also operate FC Bayern TV Live, the club's dedicated TV channel.
The management, editorial activities and production team of FCB Digital & Media Lab will be housed at Bayern's training facility, where new premises are currently under construction. Meanwhile the unit's IT and technology teams will remain at the FC Bayern Campus in Munich.
The establishment of the subsidiary is a continuation of 'FC Bayern Digital 4.0', a project launched in the autumn of 2016. As well as updating the club's digital and online platforms, the project has sought to advance Bayern's knowledge and in-house expertise in technology, with the team having previously set up its own data processing centre in partnership with its main sponsor Deutsche Telekom, and dedicated software and IT infrastructure in association with partner SAP.
"With the launch of a digital and media subsidiary, we want to bring together our knowhow and strengths to further extend the leading role played by FC Bayern in this area," said Bayern chairman Karl-Heinz Rummenigge.
"We are convinced that FCB Digital & Media Lab will help us maintain our competitiveness on the international stage in the light of the enormous funds derived from TV."
Mennerich added: "Through FCB Digital & Media Lab we are looking to further extend our enormous media penetration. As a result, that will also support our internationalisation and bring in further funds in the areas of media, merchandising and sponsorship.
"We will also offer our infrastructure and our knowhow as a service to third parties. The basis of our work is always the content we produce and offer with our teams worldwide. That means we can bring our team, our tradition and our brand to life worldwide to enthuse FC Bayern supporters and win new ones."