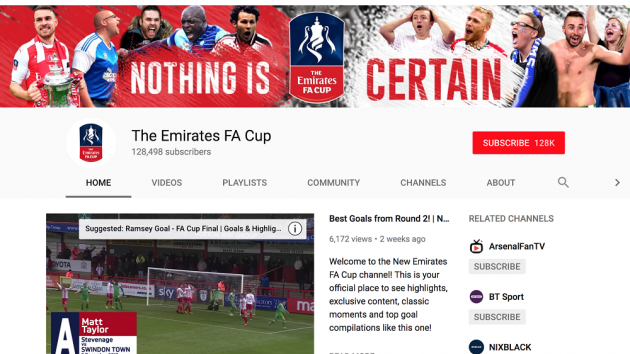 The Football Association (FA), English soccer's governing body, has announced a partnership with Little Dot Studios.
Under the terms of the deal, the online video distribution and production company will provide channel and video management services across the FA's social channels, with the aim of growing the organisation's presence on YouTube, 'strengthening its digital identity' and gaining 'stronger engagement on social platforms'.
Little Dot will provide services including live video editing, social video creation, channel management and data insights, and will also utilise the FA's archive of international games, as well as matches from English soccer's annual knockout club soccer competition, the FA Cup.
The agreement adds to Little Dot's portfolio of sports partners, including all-electric motorsport series Formula E and the England and Wales Cricket Board (ECB).
Wayne Davison, managing director of content acquisitions and distribution at Little Dot Studios, said: "To be working with such a prestigious organisation as the FA, alongside their fantastic digital team, is an amazing opportunity for Little Dot Studios. The next 12 months is all about building on the success of the FA's existing social channels with innovative video distribution and production methods, to engage with the passionate fanbase for the various FA competitions and all of the England women and men's national teams. And all of that alongside the build-up to the 2018 World Cup."
Damien Cullen, senior video manager at the FA, added: "We have been at the forefront of engaging fans through social media for many years and are always looking for new and innovative ways to ensure we are fulfilling this. We believe that Little Dot Studios, with their unique blend of data-driven insights and creative instincts, is the right partner to enable us to push this forward even more."
The fourth round of the 2017/18 FA Cup will include four teams from the fourth tier of English soccer - Yeovil Town, Nottingham Country, Coventry City and Newport County - with matches being played from 26th to 28th January.