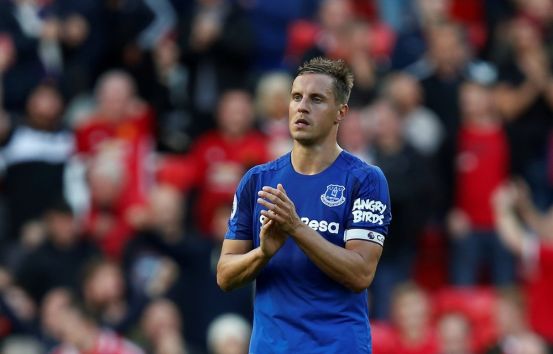 Top-tier English soccer side Everton have announced a multi-year partnership with Rovio Entertainment, which will see the games giant's Angry Birds franchise become their first ever sleeve sponsor.
In a deal announced on Sunday, the Angry Birds logo will be imprinted on the left sleeve of the Premier League outfit's playing shirts for the duration of the agreement. The two parties will also collaborate to create branded digital content using the Liverpool-based club's crest, players and Goodison Park home ground.
Everton are the 14th Premier League side to secure a sleeve sponsor for the 2017/18 season as sleeve inventory becomes available for the first time.
"We're delighted that Rovio Entertainment has become Everton's first shirt sleeve partner," said Robert Elstone, chief executive of Everton. "Angry Birds is one of the best-selling game apps of all time and is also a remarkable success story in terms of the way in which the brand has crossed over from gaming to become part of popular culture. Everyone here is excited about being able to work with such a creative, dynamic and ambitious brand."
Alan McTavish, head of commercial at Everton, said: "Rovio Entertainment recognise the global reach that Everton can deliver through its international fanbase and the global exposure of the Premier League. In return, working with Rovio and the Angry Birds brand gives Everton exposure in key international markets through their breadth of digital channels in gaming and animation, as well as a wide range of co-branded merchandise.
"The lead character in the Angry Birds universe is known as Red - and it is great to know he is now a Blue. We look forward to working together to deliver some innovative and exciting worldwide activations in what I'm sure will be a long and successful partnership."
Ville Heijari, chief marketing officer of games for Rovio Entertainment, added: "We are excited to bring Angry Birds into the top flight of English football in partnership with Everton. In Everton, we have found a partner who shares our values of putting the fans first, and creating a long-lasting legacy for our community of players. This is Rovio's first partnership in the most watched sports league in the world, and a logical continuation of our global Angry Birds brand partnerships."
Everton wore Angry Birds-branded shirts for the first time during Sunday's 4-0 defeat away to Manchester United, which saw them drop to 18th in the Premier League table. They play their next game at home to fellow strugglers Bournemouth on 23rd September.