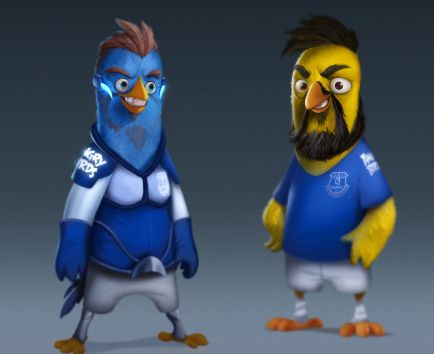 English top flight soccer club Everton have launched an eye-catching activation with sleeve sponsor Angry Birds that sees star players Theo Walcott, Gylfi Sigurdsson and Cenk Tosun feature as playable characters in the game.
The Toffees trio are available to play in the Angry Birds Evolution game in an exclusive transfer window period that runs until Monday 27th August. All three have been given Angry Birds makeovers, with attributes designed to replicate their on-field attributes.
Having sponsored Everton since September 2017, the agreement marks a first deal of its kind on both sides.
Rovio Entertainment, based in Finland, already has successful partnerships with other sports brands in the National Basketball Association (NBA) and the National Football League (NFL), though this is its first venture into Premier League soccer.
Denise Barrett-Baxendale, Everton's chief executive, said: "Our innovative partnership with Angry Birds has enabled us to reach a new audience worldwide and gives us exposure in key international markets.
"Incorporating the characters of Theo, Gylfi and Cenk into the Evolution game is an innovative, tangible and vivid way of bringing our partnership to life."
Meanwhile, Tom McCormack, head of football at analysts Nielsen Sports, added: "It's not often that a rights holder will have such a unique opportunity to leverage a partner's own platforms, especially one with such scale and activity as the Angry Bird's channels, with bespoke content to engage a different demographic and grow the fanbase."
On the pitch, Everton will be looking to build on their promising start to the season when they visit Bournemouth in the Premier League this weekend.