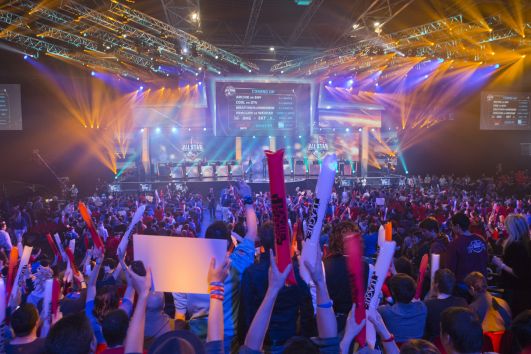 Video game publisher Activision Blizzard has announced the first seven teams and franchisees for its Overwatch League, a new city-based esports competition set to launch later this year.
The company has confirmed that US-based teams will be created in Boston, Los Angeles, Miami-Orlando, New York and San Francisco, while overseas franchises will be established in Seoul, South Korea and Shanghai, China.
Among the initial roster of franchisees is Robert Kraft, the billionaire chairman and chief executive of the Kraft Group and the New England Patriots National Football League (NFL) team, whose Overwatch outfit will be based in Boston.
Jeff Wilpon, the chief operating officer of the New York Mets baseball team, will own the New York-based Overwatch franchise, while Ben Spoont, the chief executive and co-founder of Misfits Gaming will control the Miami-Orlando organisation, backed by the Miami Heat basketball team.
Other investors include Noah Whinston, the chief executive of Immortals (LA) who is supported by AEG; Andy Miller, the chairman and founder of NRG Esports (San Francisco); Chinese tech firm NetEase (Shanghai); and Kevin Chou, the co-founder of mobile entertainment company Kabam (Seoul).
Activision Blizzard, the creators of popular video games such as World of Warcraft, Hearthstone and StarCraft, is reported by ESPN to have been seeking US$20 million for an Overwatch franchise operating license.
"The Overwatch League will celebrate and reward our most accomplished players and give fans more opportunities to engage with each other," said Activision Blizzard chief executive Bobby Kotick.
"We're excited to be working with leaders from esports and traditional sports to celebrate our players and to establish the Overwatch League."
The Overwatch League is the first major esports competition to feature a city-based structure, and among the first to employ a traditional sports franchising model.
Team owners will be able keep all local revenues generated in their home territory up to a certain amount each year, with any additional income channeled into the league's shared revenue pool - although it is understood that revenue sharing among teams will only begin in 2021.
Overwatch is a game about a diverse group of international heroes who fight for an optimistic vision of the future, and the Overwatch League is an extension of that spirit.
Owners will also have the right to operate up to five amateur events in their home territory each year and retain half of any profits generated through sales of league-affiliated fan items in Overwatch, the multi-player team game on which the league will be based and which is said to have around 30 million players worldwide.
The league, meanwhile, will support team marketing efforts by generating central advertising, ticketing and broadcast rights revenues, with each team receiving an equal share of all league-wide net revenues.
"Overwatch is a game about a diverse group of international heroes who fight for an optimistic vision of the future, and the Overwatch League is an extension of that spirit," said Mike Morhaime, the chief executive and co-founder of Blizzard Entertainment.
"We're building this league for fans - esports fans, traditional sports fans, gaming fans - and we're thrilled to have individuals and organisations who are as passionate about professional competition as we are, and who have extensive experience in all three fields, representing our first major international cities in the league."
Kraft, whose entry into esports has been rumoured for some time, added: "We have been exploring the esports market for a number of years and have been waiting for the right opportunity to enter.
"The incredible global success of Overwatch since its launch, coupled with the league's meticulous focus on a structure and strategy that clearly represents the future of esports made this the obvious entry point for the Kraft Group."
The first season of the Overwatch League is slated to begin some time later this year, with regular season matches, played each Thursday, Friday and Saturday, held at a not-yet-announced esports arena in the LA area.
Activision Blizzard says each team will work to develop their own local venues ahead of 'formal home and away play in future seasons.'
The schedule for the inaugural season will be announced in due course, as well as additional teams and owners. Reports suggest Activision Blizzard hopes to eventually grow to 28 franchises, although questions have been raised over its decision to embark on such a major undertaking so soon after the launch of the Overwatch game, which only debuted in May of 2016.