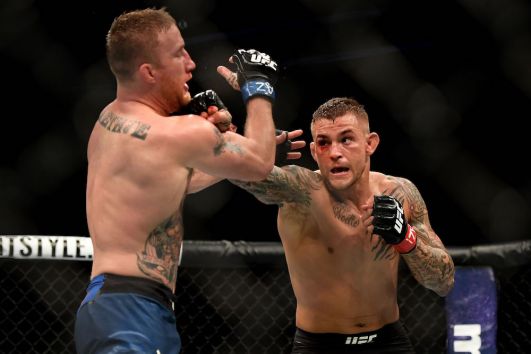 The UFC has announced an exclusive, multi-year digital rights agreement with ESPN, which has struck a deal to become the exclusive streaming partner of the MMA promotion in the United States.
Under the deal, which begins in January 2019, ESPN will stream live and exclusive coverage of 15 UFC events via its new ESPN+ direct-to-consumer service, as well as providing additional supplementary programming across its family of TV, social and digital platforms.
Coverage will be provided in both English and Spanish, with each of the 15 live events branded as 'UFC on ESPN+ Fight Night'. Additional content available via ESPN+, which retails for US$4.99 a month, includes pre and post-event shows, coverage of press conferences and weigh-ins, new episodes of 'Dana White's Contender Series', a new all-access series produced by IMG Original Content, and archive programming of past UFC events.
Certain pay-per-view events and other events shown via UFC Fight Pass, the promotion's own over-the-top (OTT) streaming service, will also be accessible on ESPN+ for an additional cost.
Linear and digital programming covered in the deal includes an exclusive, 30-minute special previewing upcoming bouts, hundreds of hours of UFC library programming, and re-airs of past pay-per-view events.
The deal marks the first partnership signed between Disney-owned ESPN and the UFC. Terms have not been formally disclosed, but SportsBusiness Daily reports that the agreement is worth US$150 million per year over five years.
"One of our goals for ESPN+ is to bring sports fans of all genres content they love and are passionate about, and this agreement with UFC is illustrative of exactly that," said Kevin Mayer, the chairman, of the The Walt Disney Company's newly created Direct to Consumer and International division.
"We look forward to providing UFC's enthusiastic, growing fan base with a wide array of live events and building a lasting relationship with the industry leader in mixed martial arts."
Dana White, the UFC president, added: "I couldn't be more excited to partner with The Walt Disney Company and ESPN on an agreement that will continue to grow our sport.
"UFC has always done deals with the right partners at the right time and this one is no exception. We will now have the ability to deliver fights to our young fan base wherever they are and whenever they want it. This deal is a home run for ESPN and UFC."
While ESPN has pocketed the UFC's digital rights, the promotion's executives remain in discussions over a new broadcast rights deal. Fox Sports and NBC Sports are both said to have held discussions over acquiring those rights, with Fox's current agreement due to expire at the end of the year.