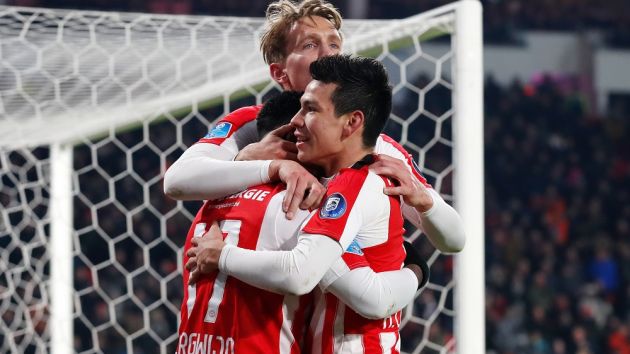 The Royal Dutch Football Association (KNVB) has confirmed the video assistant referee system (VAR) will be used in the Eredivisie, Dutch club soccer's top flight, from the 2018/19 season.
The decision comes after the Eredivisie carried out successful testing of the system in the KNVB Cup, Dutch soccer's annual knockout club soccer competition.
All Eredivisie clubs agreed to implement VAR at the extraordinary general meeting of the KNVB on Monday. The cost of using the technology is estimated to amount to €1.7 million (US$2.09 million) per season, which will be covered by the KNVB for the first two seasons, after which teams will also contribute.
The news comes after soccer's global governing body, Fifa, confirmed earlier this month that VAR will be used in the 2018 Fifa World Cup national team tournament. The US, Germany, Italy and Portugal are using the technology for their top-flight competitions for the 2017/18 season, and Spain's La Liga, France's Ligue 1, the Belgian Pro League and the Chinese Super League (CSL) will all implement VAR from the 2018/19 season.
"Of course we have been working in the background for a while, but the introduction of the VAR will really take shape in the coming months," said Eric Gudde, general director of the KNVB. "I am therefore looking forward to the moment we will really start on Friday August 11 at the start of the Eredivisie."
Meanwhile, Dutch public broadcaster Nos has extended its rights deal to show highlights from the Eredivisie.
The service's current agreement with Eredivisie Media & Marketing (EMM) was due to expire in mid-2019, but will now be valid until the end of the 2021/22 season.
As a result, match summaries will continue to be shown on Nos' channels and digital platforms, as well as on Nos radio.
"This is really top news," said Maarten Nooter, editor-in-chief of Nos Sport. "The premier league [Eredivisie] is the most important competition for football fans in this country, not always the best football, but the best stories and the best experience. Nos helps the league enter the conversation of the day, and that we can continue to do so for years is very good news."
Geert Hofman, acting general manager of Nos, added: "Nos has been reporting on the premier league for over fifty years. That we can continue to do so is a token of appreciation for the way on which we make the league accessible to a wide audience, for us and for the public broadcaster as a whole."