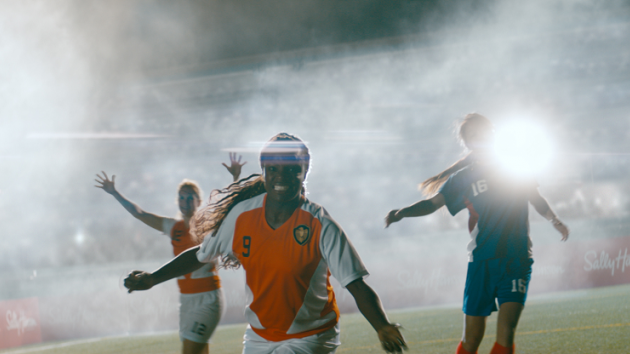 Women's soccer star Eniola Aluko has become a global ambassador for beauty brand Sally Hansen.
The Chelsea LFC striker and England international will feature in Sally Hansen's first global brand campaign, Self-Made Beauty, which 'champions self-made women, from entrepreneurs and activists to young mothers and athletes', and aims to celebrate 'female diversity' and challenge 'common stereotypes'.
30-year-old Aluko is a qualified lawyer and media personality alongside her professional soccer career, which has seen her play in over 100 matches for the national side. She was part of the England team that claimed third place in the 2015 Fifa Women's World Cup in Canada.
She also became an ambassador for the UN Women National Committee in March to further gender equality and equal opportunities.
"I'm humbled that someone as inspirational and successful as Sally Hansen would chose me to feature in the brand's global campaign, especially given the focus is on championing diversity and challenging stereotypes," said Aluko. "These two topics are very close to my heart and I have always tried to use my own experiences to inspire other women. I have been looking forward to seeing the campaign since we did the shoot in May and hope it connects with women all over the world."
Jeremy Lowenstein, vice president of marketing at Sally Hansen, added: "The making of and inspiration for this campaign started three years ago with the search for the brand's namesake. The brand's new platform of 'Self-Made Beauty' truly embodies the life and spirit of Sally Hansen, the founder. My hope is that this campaign empowers and inspires even more women to take beauty in their own hands, so that they, too, can create their best selves, them self, every single day."
Misha Sher, the worldwide vice president for sport and entertainment at MediaCom Sport & Entertainment, which brokered the deal, commented: "Eni's association with Sally Hansen, and this campaign in particular, speaks volumes about what she has achieved and the role model she's become in the process. She is incredibly passionate about inspiring others to reach for the stars and to embrace the challenges that come along the way. The campaign resonated with Eni from the start and Sally Hansen has been terrific to work with."
Chelsea LFC came second in the Women's Super League 1 to Manchester City Women in 2016. 2017 sees the side top of the league after a roaring start to the season, beating both Sunderland Ladies and Bristol City Ladies 6-0. The team host Liverpool Ladies on Saturday.
The Sally Hansen deal comes after a difficult summer for Aluko, who has claimed she was omitted from the England squad by former manager Mark Sampson after she told a cultural review panel at the Football Association that he had made a racially insensitive remarks to a number of players, including an inappropriate joke about her family. Sampson has since been sacked as a result of separate allegations regarding his conduct around players during an earlier spell at Bristol Academy.