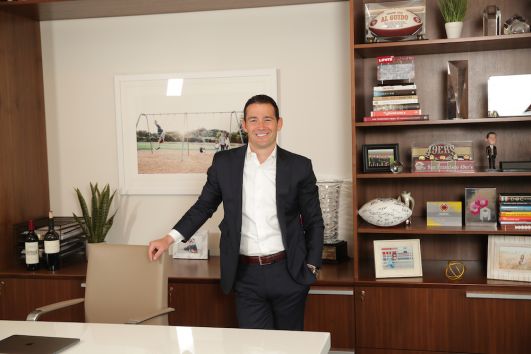 Elevate Sports Ventures, the new sales, marketing and premium services company established earlier this year by the San Francisco 49ers, Harris Blitzer Sports & Entertainment (HBSE) and CAA Sports, has secured strategic partnerships with Oak View Group (OVG) and Live Nation/Ticketmaster.
Under the terms of the agreements, both companies will become partners in the six-month-old venture while Elevate will now handle premium ticket sales and marketing for Seattle's KeyArena, which is set to undergo an extensive US$600 million renovation, privately financed by OVG, with a view to hosting a proposed National Hockey League (NHL) franchise.
Speaking exclusively to SportsPro, Elevate chief executive and managing partner Al Guido said the new investors will help create a company with formidable reach and expertise, dramatically enhancing Elevate's capabilities into areas such as venue development, management, financing and operations, as well as ticketing technology and live content.
"There's no question, we're not a standalone service fee consulting shop," said Guido, who also serves as president of the 49ers. "There's a lot of those out there and they all do tremendous work, whether it's in the sponsorship world or in the premium world, but that is not the only vertical we play in."
Founded in 2015, OVG is headed up by Tim Leiweke - a widely respected sports executive who Guido described as "a titan in the industry" - and music mogul Irving Azoff, a former chief executive of Live Nation. As well as spearheading the Seattle NHL project, the company is also currently leading a US$1 billion arena project for the New York Islanders at Belmont Park - another development in which Elevate is understood to be involved.
"With Tim coming on board now, our group is putting capital at play here," said Guido, who has previously worked on large-scale stadium projects for the 49ers and the Dallas Cowboys. "We're actually going in and financing these arenas and buildings, so that is very different than anything that's out there in the world today. It puts us in play with the other large facility operators, whether they be the SMGs or the AEGs, and now we're just adding strategic arms or verticals on top of that.
"We feel as though we've now stepped out of the consulting fee-based business and we're really in the operations, sales and marketing, capital financing business, which is a game-changer for us."
Guido added that Live Nation/Ticketmaster, the largest live event and concert promoter in the world, will bring its content and technology expertise to bear on Elevate's wider stable of services whilst boosting the company's ability to compete with existing US-based players in the premium ticketing space such as Legends and Van Wagner.
"As you can imagine, all these arenas need content and we feel as though the Live Nation partnership is a good strategic way to go into business together," he said. "We've always had a tremendous relationship wth Ticketmaster. We certainly believe they're the best in the business from a technology footprint [perspective], so we feel whether it's in ticketing, content, facility operations, sales and marketing advice, that we can really offer a team or brand or sports owner a 360 solution to monetise and leverage their opportunity."
Elevate, which was formed in January, has existing operations in Silicon Valley, Philadelphia, Los Angeles, New York and London. Thanks to the combined reach of OVG and Live Nation/Ticketmaster, Guido said the company will now be able to draw upon a vast network of resources spanning both US coasts and key overseas markets.
"We feel as though we can handle any job and any workforce," he added. "Now we actually have offices in these parts of the world because we're actually operating in this space. That's really going to benefit us because I truly believe you need to be on the ground inside of these areas, you need to live it and breathe it.
"You can't just fly in every once in a blue moon, consult for a little and fly out. I don't think that's what brands and teams are looking for. The fact that now we're able to be on the ground in the building with these operators, doing what they do day-to-day, is certainly going to give us a competitive advantage."
Guido himself identifies the top European soccer properties as target clients for Elevate, which currently works in US professional and college sports and gaming. Though unable to mention specific targets due to nondisclosure agreements, he reveals that he was recently in Spain for meetings with representatives from La Liga.
He also notes the wealth of attractive business opportunities in the UK given the "ton of money being spent" on major stadium projects - including both renovations and new builds - by the likes of Everton, Tottenham Hotspur and Crystal Palace, whose parent company, HBSE, is a founding investor in Elevate.
"There's no question we have a global outlook on this," he said. "There's US$30 billion that is being spent within stadium design, renovation and so on - that's happening all across the globe. And people are buying tickets for live experiences more than they've ever done in the past. That part of the world is coming back: if you look at the festival business, it's more popular than it's ever been. If you look at the content space where people are building concert-only venues now, they don't even need tenants.
"I think the world is dramatically changing inside the world of live sports and entertainment and we want to be at the forefront of that, whether that's in the US, Asia, the UK, wherever it might be. We certainly believe that we have the expertise inside each of those markets to be successful."
News of the fresh investment comes ahead of this week's NHL board of governors meetings, where league bosses are set to discuss possible expansion into Seattle. According to Guido, OVG has already "done a great job" in driving that particular project forward and drumming up support in the local market, noting how a recent season ticket drive garnered more than 33,000 deposits with some 25,000 put down in the first hour alone.
The push to bring the NHL to Seattle is now being led by Tod Leiweke, Tim's younger brother and president and chief executive of the proposed franchise. A final decision on the league's expansion is expected later this year.
"It's such a historic opportunity because the property, KeyArena, has got great tradition and history if you think about not just the sports but the content," Guido said. "Can you think about an area inside the US that's better known for music, culture, diversity? For us, the ability to restore an iconic venue by keeping the roof structure, lifting the building, spending US$600 million to renovate it - I put it on par with the Madison Square Gardens of the world.
"I think it's going to revitalise downtown Seattle. Obviously we're excited about launching an NHL brand. We think it's going to do tremendous economic impact inside of that region. Who knows what the future is ten years from now relative to the sports landscape, but the start is rebuilding KeyArena."