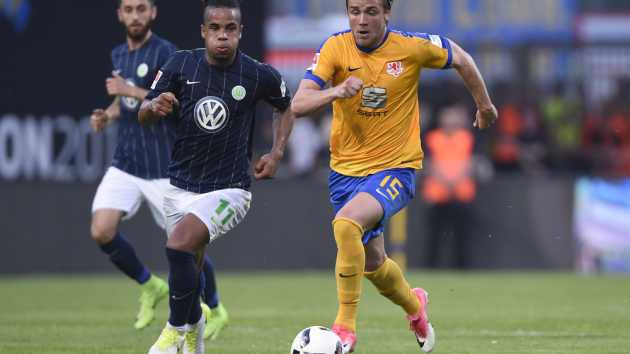 German soccer side Eintracht Braunschweig have extended an agreement with BS Energy for a further two years.
The team, who compete in the second tier of German soccer, the 2. Bundesliga, received a €6,700 contribution from the energy company towards the development of their youth team.
As part of the deal, BS Energy will continue to sponsor tickets which allow stadium visitors to use public transport in Braunschweig free of charge before and after their home games.
BS Energy, based in Braunschweig, is a subsidiary of Veolia, the French transnational company which manages water, transport and energy services. The energy supplier has partnered with Eintracht since 2007.
The German side's extension marks a commitment to renewable energy use, with BS Energy developing its BS Naturstrom, a renewable energy offering that provides green energy from its Swiss hydroelectric power station, as well as solar, wind, water and biomass sources.
"The blue-yellow colours connect the people of Braunschweig and the region in an impressive way," said Julien Mounier, director of the energy division at BS Energy.
Kai Uwe Krauel, BS Energy's chief executive, added: "A successful Eintracht is wonderful for Braunschweig and good for the economy of this city."
"We would like to thank BS Energy and Veolia for the continuation of the support," said Sebastian Ebel, chairman at Eintracht. "Both companies are longstanding and loyal partners, with whom we will continue to work in a very trusting manner. We are entering a new and exciting field of our cooperation with BS Naturstrom; from January 2016 the administration of the Eintracht is exclusively supplied with electricity that is 100 percent from renewable energy sources."
Eintracht Braunschweig narrowly missed out on promotion to the Bundesliga in the 2016/17 season, finishing third in the 2. Bundesliga and losing 2-0 on aggregate to VfL Wolfsburg in the promotion play-off. The team have made a mediocre start to the 2017/18 league season, with two wins and five draws under their belt. Eintracht beat SpVgg Greuther Fürth 3-0 on Wednesday and will play Jahn Regensburg away on Saturday.