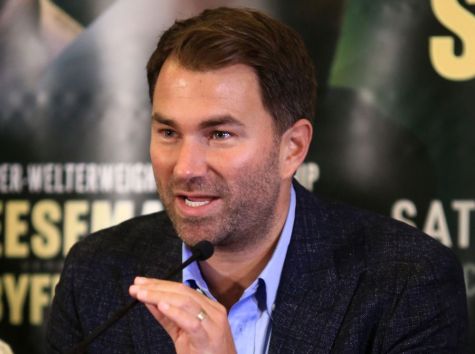 Matchroom Sport managing director Eddie Hearn has issued a warning to the boxing industry that the growth in the number of fights held on pay-per-view (PPV) will "end in tears".
In May of this year Hearn reached a landmark media rights agreement with over-the-top (OTT) streaming service DAZN. Worth US$1 billion, the deal will see DAZN stage 16 fights a year for eight years, and was tipped by many as the beginning of the end for pay-per-view boxing, most imminently in the US.
However, there are nine fights which are likely to air on PPV in the UK between now and the New Year, which Hearn says is creating an oversaturated market. He predicted the upcoming Anthony Joshua vs Alexander Povetkin fight would be the only one to break a million buys with others struggling to break 100,000.
"I think pay-per-view will end in tears at some point," said Hearn in a press conference ahead of the Joshua-Povetkin fight.
"We are in a strong position because our platform is solid, proven.
"But what will happen is other fighters will take risks on pay-per-views that won't work. [Josh] Warrington vs [Carl] Frampton, if it did 100,000 buys on pay-per-view I'd be astonished.
"And if we go on the 22nd [December for Dillian Whyte v Dereck Chisora] it won't do 50,000 buys. So how are the fighters going to make any money? Too much pay-per-view, you can't say it is good for boxing because it is not."
Hearn also said that UK broadcaster Sky should be doing more financially to back non-pay-per-view fights and reward promoters for filling venues.
"Sky are consistently backing boxing at a level where we can do an Amir Khan fight on Saturday and just about wipe our face," he added. "What sort of business is that? You work on a Khan card for three to four months, sell 8,000 tickets and as a promoter you are thinking: 'Can I break even? Where we make our money is pay-per-view.'"