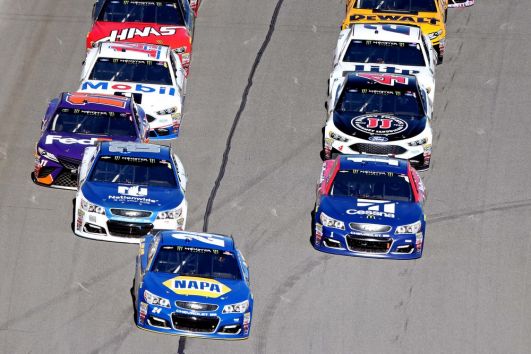 American stock car racing team Circle Sport-The Motorsports Group have partnered with equipment supplier Dynamic Towing Equipment & Manufacturing, while tool producer Span-On Incorporated has extended with Team Penske.
Circle Sport's number 33 Chevrolet SS, driven by Jeffrey Earnhardt, will be sponsored by Dynamic in the top-tier Monster Energy Nascar Cup Series for the remainder of the 2017 season.
"We are excited to welcome Dynamic Towing Equip & Manufacturing on board the number 33 Hulu Chevrolet," said Circle-Sport-TMG team owner Joe Falk. "They have been involved in the motorsports industry for several years. I'm glad that we were able to create a partnership within the premier series of Nascar."
"I am excited to be part of Circle Sport-TMG for the remainder of the 2017 Monster Energy nascar Cup Series season," added Anthony Gentile, president of Dynamic. "I have been involved in the racing scene for several years now, so naturally it made sense to partner with a Jeffrey Earnhardt and the CSTMG team. Currently we are the official recovery vehicle for Charlotte Motor Speedway, as well as Kentucky, Atlanta and Bristol. I am looking forward to watching the number 33 Chevrolet compete every week."
Meanwhile, Team Penske, which competes in IndyCar and the Nascar Cup Series, has agreed to a five-year extension to its partnership with Snap-On, which, by 2021, will have sponsored the team for 40 years.
Under the terms of the deal, the tool-maker will sponsor Brad Keselowski in the April Cup race at Talladega next season, and will serve as the primary sponsor in two races in the second-tier Nascar Xfinity Series, as well as continuing as an associate sponsor on all Team Penske cars competing across racing series this season.
The company has sponsored Team Penske in three Xfinity races this year, at Charlotte, Kentucky and Watkins Glen.