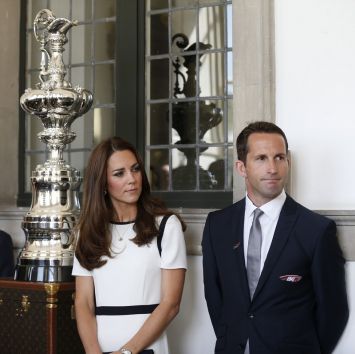 Ben Ainslie insisted his eponymous team can "absolutely" win the 35th America's Cup, after formally launching a British challenge for sailing's biggest prize in London on Tuesday.
Although Ainslie's intention to launch a British Cup challenge has been well known for some time, the names of the private investors who have helped to fund the early part of the project have now been revealed.
Carphone Warehouse founder Sir Charle Dunstone has been named chairman of the team. He is a founding shareholder alongside Sir Keith Mills, the former deputy chairman of London 2012 who was behind Team Origin, an ill-fated British America's Cup challenger which folded in 2010.
Private funding, around 40 per cent of the UK£80 million budget confirmed by Ainslie on Tuesday, has also been provided by British businessmen Chris Bake, Peter Dubens, Lord Irvine Laidlaw, Ian Taylor and Jon Wood.
Lord Michael Grade, a UK television executive and former head of the BBC, and Linklaters chairman Robert Elliot have joined the team's board on an independent basis.
Five-time Olympic champion Ainslie, however, will be the largest shareholder and, as team principal and skipper, its driving force. Dunstone, speaking at the Royal Museums Greenwich where the team was presented to the Duchess of Cambridge on Tuesday morning, insisted that Ainslie was "not a hired gun - he's leading this."
Dunstone added: "This campaign is about righting a wrong. We have never won it. We have an amazing maritime history. The Cup has to come home, we have to do that."
Ben Ainslie Racing was launched in 2012 but after competing with the team in several America's Cup World Series events during the last Cup cycle, Ainslie switched to the Oracle Team USA defender for last year's Cup matches against Emirates Team New Zealand.
He has been widely credited with helping to reverse an 8-1 deficit, ensuring that Larry Ellison's Oracle retained the Cup.
Speaking on Tuesday, Ainslie said: "This is the last great historic sporting prize never won by Great Britain. It has always been my ambition to mount a home challenge. The time is right and I am hugely encouraged by the support we are getting, not least from the Duchess of Cambridge.
"I learned a great deal aboard Oracle in San Francisco and I would not be challenging if I did not believe we have a real chance of winning this time."
Last week, Ellison, Oracle Team USA's Russell Coutts and the Golden Gate Yacht Club released the protocol for the 35th Cup, the set of regulations which will govern the next Cup in 2017.
No venue was confirmed and Ainslie, without elaborating, said on Tuesday that "there were some issues" with the protocol, the contents of which must be agreed by the defender and the challenger of record, in this case Hamilton Island Yacht Club of Australia, but are often the source of controversy.
Ainslie and Dunstone also said that Tuesday's launch marked the beginning of the pursuit of major commercial partners, notably a title partner which is likely to be a "multinational" corporation. The team was able to confirm a deal with 11th Hour Racing, a company focused on sustainable sailing. Smaller official partner agreements have been signed with KPMG, Henri Lloyd, Siemens NX, support boat supplier Scorpion Ribs. Technical supply deals are in place with accountancy firm Princecroft Willis, engineering software company Esteco, hospitality partner The Goring and SOS Rehydrate, the energy drinks brand in which Ainslie holds an equity stake.
The British challenge will be routed, as per America's Cup regulations, through a yacht club. Ainslie has chosen Yacht Squadron Racing as the team's sanctioning club.
The early funding has allowed the team to secure several key sailing and technical personnel, including Dirk Kramers as head of design and engineering.
Andy Hindley, who worked on last year's Cup as part of the central America's Cup organisation, is the team's new chief operating officer, with Jo Grindley, who has worked closely with Ainslie for several years, running the commercial, marketing, communications and events divisions.
A team statement added that: 'Ben Ainslie Racing plans to forge strong relationships wherever the skills and technology are to be found – not just in the traditional marine industry – and it will create these relationships based on a sustainable business model. And just as many Formula One teams develop and bring to market the technologies they produce, Ben Ainslie Racing will look to replicate this model in its own way.'
Lord Grade, speaking in Greenwich, added that the board's main job was to "basically make Ben angry at the right time".