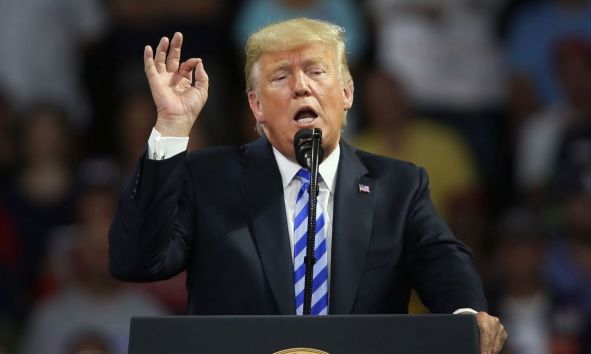 US President Donald Trump is applying pressure to domestic National Football League (NFL) broadcaster ESPN to televise the national anthem during its flagship Monday Night Football broadcasts this season.
In his latest attack on the anthem protests that have dominated the NFL over the past two seasons, Trump has announced a petition to get the network to show The Star Spangled Banner before kick-off.
ESPN is returning to an old company policy of not televising the national anthem, having showed the national anthem three times during the 2017 season. Other networks have decided to adopt a similar policy this season. Fox Sports will reportedly only air the anthem during special broadcasts; NBC has apparently not finalised its anthem broadcast plans; and CBS Sports will continue a long-standing policy of not showing the anthem.
In an email to supporters announcing the petition, Trump called ESPN's decision "spineless."
"If 'America' is too offensive for anyone in our country, then what are they doing in America?" Trump wrote in an official newsletter.
"I'm calling on you to join me in denouncing this spineless surrender to the politically correct liberal mob.
"I was the first person to sign this petition. Now I need you to follow my lead and be the second."
ESPN president Jimmy Pitaro told reporters last week the network has not aired the national anthem live during its Monday night broadcasts in the past and does not plan to change in 2018 — although he added plans could be altered based on newsworthiness.
Trump's latest call to action continues his personal campaign against both the NFL and ESPN. Trump has repeatedly criticised players and executives over protests during the national and feuded with ESPN personality Jemele Hill, as well as taking shots at the network on Twitter.