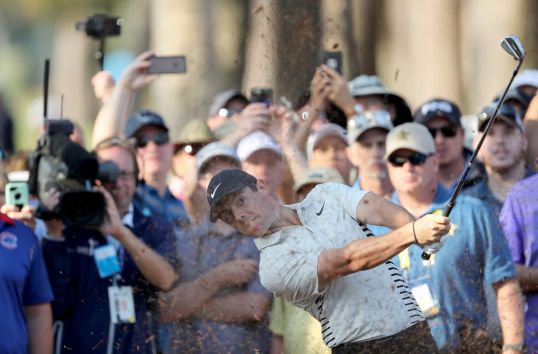 US media giant Discovery has paid an eye-watering US$2 billion for international rights to golf's PGA Tour.
The 12-year deal, which kicks in next year, covers both TV and online rights to the US-based circuit, and Bloomberg reports that the agreement includes the development of a Netflix-style video service to house the coverage.
Discovery will also show tournaments on its regular TV channels, and will use the events to attract more viewers to its online service, Eurosport Player. Bloomberg also claims that the company will look to sublicense rights in some markets.
The package will give Discovery, which owns pan-European broadcaster Eurosport, rights to more than 140 tournaments each year, including about 40 PGA Tour events.
"We think the PGA Tour is the most compelling international sports IP in the world," said Discovery chief executive David Zaslav.
"Following our successful first Olympic Games in PyeongChang, Discovery will contribute its strong global distribution and promotional infrastructure, in-market relationships, global sports expertise with direct-to-consumer platforms and brands to create a valuable new long-term home of golf offering in every market outside the US."
PGA Tour commissioner Jay Monahan added that he hopes the deal will help the circuit reach new fans around the world, with China in particular emerging as a key target market.
He added: "This is an exciting next step for the PGA Tour, which presents a tremendous opportunity to accelerate and expand our media business outside the United States, better service our international broadcast partners, and drive fan growth with a deeply experienced strategic global partner.
"This partnership aligns very well with the opening of PGA Tour offices in London, Tokyo and Beijing in recent years and will support our long-term objectives of growing the game of golf. It also will deliver more value to our sponsors as it presents a tremendous opportunity to engage new and diverse audiences around the world."
The agreement represents Discovery's latest push to become a significant player in sports broadcasting and is the company's biggest deal since 2015, when it agreed to pay €1.3 billion ($1.5 billion) for rights in Europe to the Olympic Games from 2018 to 2024.
Discovery's mega move could see various major broadcasters lose out on coverage of the PGA Tour unless they are able to agree sublicensing deals. UK broadcasting giant Sky Sports currently holds exclusive rights to the tour until 2021 and last year launched a dedicated golf channel to support its coverage of the circuit. In the US, the tour is shown on CBS or NBC and the Golf Channel in deals which also run until 2021.