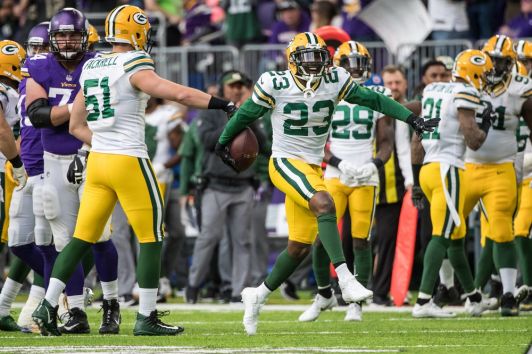 Clothing retailer Dickies has announced a partnership with the National Football League's (NFL) Green Bay Packers for the 2017 season.
The agreement sees Dickie's branding featured in the Packers' home stadium, Lambeau Field, on digital signage and advertising as well as in the official game-day programme.
The work-wear brand is also to enjoy a presence across the Packers' digital platforms and social media channels.
Additionally, Dickies will provide stadium and security staff with its work clothing, which is designed to protect against low temperatures. The NFL side's home ground is in Green Bay, Wisconsin, in a region that experiences long, cold and snowy winters.
The financial details of the agreement have not been disclosed.
In April, the US-based company became the title sponsor of Dickies Arena in Fort Worth, Texas, which is scheduled to host the first two rounds of the 2022 NCAA men's national college basketball tournament.
"Lambeau Field and its staff represent the hard work, determination and perseverance of the Green Bay community," said Ted Eisenreich, director of facility operations for the Green Bay Packers. "Security and game-day staff have a lot riding on their shoulders given the level of work that goes into making sure our fans are safe and our facilities perform. Our workers need to feel comfortable, protected and we know Dickies provides exactly what they need to make sure they're able to stay focused on game day."
"With temperatures often hovering in the negative territory, there is no tougher atmosphere to work and play than the frozen tundra of Lambeau Field," added Brent Streit, vice president of marketing at Dickies. "Not every piece of workwear or outerwear is suited for that level of punishment, but what Dickies does well is craft tough, no-nonsense workwear at a price everyone can afford that can stand up to the outdoors."
The Green Bay Packers, who compete in the NFL's National Football Conference (NFC) North Division, clinched the division title for the fifth time in six years in the 2016 season. They have won four of their opening six games in their 2017 campaign, most recently losing 23-10 to the Minnesota Vikings on 15th October. The Packers host the New Orleans Saints on Sunday.