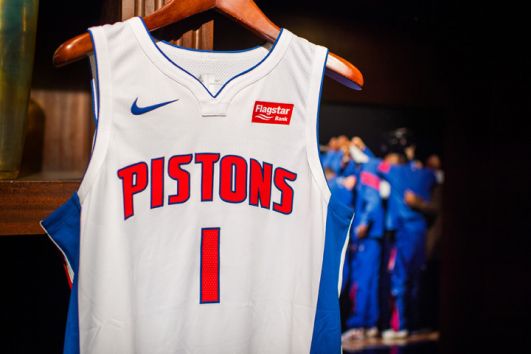 The Detroit Pistons have signed a jersey patch sponsorship deal with Flagstar Bank, becoming the tenth National Basketball Association (NBA) franchise to sell the advertising space ahead of the new season.
The multi-year agreement, confirmed at a news conference on Wednesday, also designates the Michigan-headquartered bank as the official banking and mortgage sponsor of the Pistons.
As well as jersey branding, the deal includes in-arena signage as well as social, TV and radio advertising, and collaboration on community initiatives. Financial terms of the agreement have not been released.
"This is a dynamic partnership between two organisations committed to building a better Detroit," said Pistons owner Tom Gores.
"Beyond putting the Flagstar name on our Pistons jerseys, we will be partnering on an education initiative that will benefit schoolchildren in Detroit. I'm really proud that this is more than just a business and marketing initiative. It's about working together to support the revitalisation of our city."
According to the Detroit Free Press, Flagstar had been the 'frontrunner' to acquire naming rights to the Pistons' former home, the Palace of Auburn Hills, before the team secured relocation to Little Caesars Arena, the under-construction downtown venue they will share with the Red Wings ice hockey team, in November.
NBA teams are able to sell a 2½-by-2½-inch patch on the left shoulder of their jerseys for the first time as part of a three-year pilot scheme introduced by the league last year. Industry insiders estimate the agreements to be worth anywhere between US$5 million and US$10 million per year.
Revenue from jersey sponsorships is being split in three ways: the selling team retains 25 per cent of the fee, while 25 per cent goes to the NBA's revenue sharing pool and 50 per cent is distributed to players under the terms of the league's collective bargaining agreement.
The other nine teams that have already secured jersey patch sponsors are the Philadelphia 76ers (StubHub), Boston Celtics (General Electric), Sacramento Kings (Blue Diamond Growers), Orlando Magic (Disney), Cleveland Cavaliers (Goodyear), Minnesota Timberwolves (Fitbit), Utah Jazz (Qualtrics), Brooklyn Nets (Infor) and Toronto Raptors (Sun Life Assurance Company).