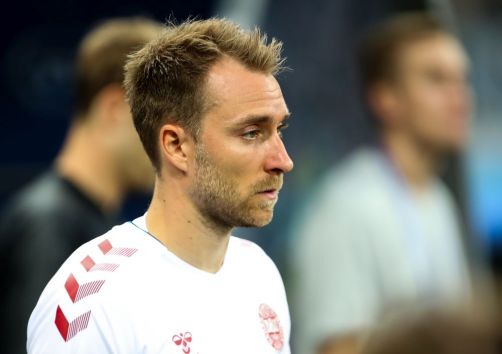 Players for the Denmark national soccer team are locked in a dispute with the Danish Football Association (DBU) over commercial rights that could see a team of futsal players fielded for the country's Uefa Nations League opener against Wales on Sunday.
The disagreement between the national soccer body and the Danish Football Players' Association (DFPA) concerns players entering individual sponsorships with organisations that compete with national team sponsors, while there is also a problem surrounding the travelling conditions of the players.
The breakdown in talks has seen many of the country's big names deselected for the forthcoming international games against Slovakia and Wales.
The DBU has been in contract talks with the DFPA for months and the governing body rejected a proposal from the union to extend the terms of the previous deal at the weekend.
It leaves a situation whereby senior internationals, many of whom reached the last-16 stage of the World Cup, will not feature in their two upcoming games, with only domestic-based players set to feature.
Manager Age Hareide and assistant Jon Dahl Tomasson have been temporarily stood down from their positions, with former Arsenal midfielder John Jensen in charge for the next two matches.
The DBU is now set to name a second-string XI for the two games with futsal players potentially being drafted in as Denmark's top two domestic leagues did not make players available for selection.
Failure to name a side could have seen Denmark being barred by governing body Uefa – potentially missing out on playing at the 2020 European Championships – as this is not the first dispute of its kind in Denmark.
A contract dispute with the Danish national women's team led to the boycotting of a World Cup qualifier against Sweden last year, leaving the DBU with a US$23,100 fine and a final warning from Uefa over the cancellation of matches – forcing the association's hand.
DBU chief executive Claus Bretton-Meyer said: "It is a deeply regrettable situation we are in both for the team, fans and for all in Danish football.
"If the games are not played, we may be fighting millions in fines and exclusions for both national teams - and Danish football will be returned to the stone age in many areas."
Their friendly against Slovakia is still set to go ahead tomorrow with the visit of Wales under scrutiny from Uefa regarding the strength of the Danish squad.
Denmark were knocked out on penalties by eventual finalists Croatia at the 2018 World Cup, though this latest episode looks to seriously derail any progress made.