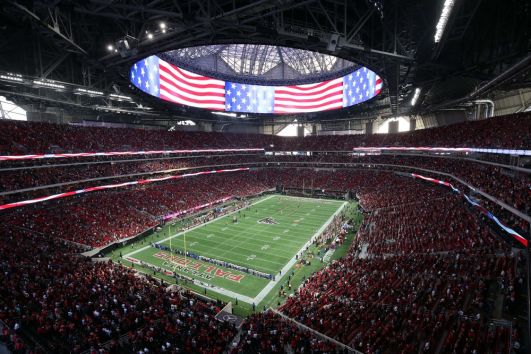 AMB Sports and Entertainment (AMBSE), the company which owns the National Football League's (NFL) Atlanta Falcons and Atlanta United of Major League Soccer (MLS), has announced that Delta Airlines will be the official airline of both franchises and their new home, the Mercedes-Benz Stadium.
The five-year deal ensures that the carrier will be an official partner of both Georgia-based clubs until the end of the 2021 season. The company will benefit from in-stadium LED advertising and digital and social content opportunities, while it will also hold the naming rights to the Delta Sky360 Club, which will allow club patrons constant access to the field throughout all games.
The agreement adds to Delta's extensive local sponsorship portfolio, which already includes deals with the National Basketball Association's (NBA) Atlanta Hawks and the Atlanta Braves of Major League Baseball (MLB), meaning the airline is now an official partner of all of the state capital city's major sports teams.
"We are proud to have Delta as an official partner of the Atlanta Falcons, Atlanta United and Mercedes-Benz Stadium," said Tim Zulawski, chief commercial officer for AMB Sports and Entertainment. "Being in the heart of the city, it is important for us to align with strong brands that have a long heritage in Atlanta and we couldn't be more thrilled to have such a strong partner in Delta across our brands."
"Delta has become synonymous with the city of Atlanta and what is important to Atlanta and everyone who lives here, is important to Delta," added Tim Mapes, Delta's senior vice president and chief marketing officer. "Just as we strive to provide Delta customers with world class facilities at airports worldwide, we're also proud to be a part of the new Mercedes-Benz Stadium in our hometown, and to join in the excitement of Falcons and Atlanta United fans all over."