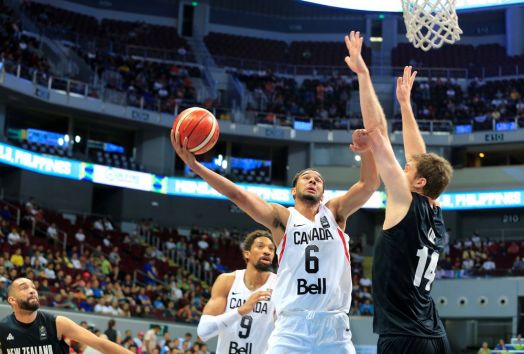 Over-the-top (OTT) streaming service DAZN has announced a five-year rights deal with the International Basketball Federation (Fiba) to broadcast games in Canada.
The Perform-owned sports broadcaster will show every Canadian national basketball team game in Fiba's leading national team competitions until 2021.
The agreement, which was brokered by Fiba Media, a strategic partnership between Fiba and Perform, includes the 2018 Fiba Women's World Cup, as well as the men's edition of the event in 2019.
In addition, World Cup qualifiers will be shown by DAZN in 2018, along with coverage of the men's and women's Under-17 World Cup tournaments.
The deal, which comes into effect immediately, follows DAZN's launch in Canada in July. The digital platform agreed a broadcast deal with the National Football League (NFL) for 2017, and has partnerships with several European soccer leagues, including Spain's La Liga, Italian Serie A, France's Ligue 1, among others.
"We're absolutely thrilled to have entered into this partnership with FIBA and offer Canadian basketball fans unrivalled access to all Team Canada matches over the next five years," said Alex Rice, managing director for rights and strategic development at DAZN.
Frank Leenders, director general of FIBA's media and marketing services, added: "It is a great pleasure to team up with DAZN in bringing the very best of men's and women's national team and world basketball to fans all across Canada. DAZN provides the perfect way to consume sports for the future generation."
"We are extremely excited about DAZN's partnership with FIBA and the opportunity to continue growing the sport of basketball in Canada," said Michele O'Keefe, chief executive of Canada Basketball. "We look forward to working with DAZN in telling our athletes' stories and putting on a good show for all the fans of Team Canada across the country."
Canada men's national team begin their 2019 World Cup qualifying campaign when they face Bahamas on 24th November.