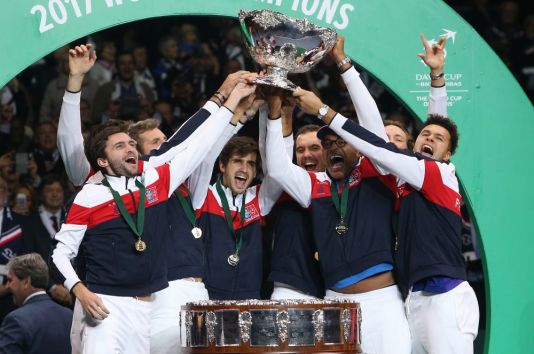 The Davis Cup, the premier international team event in men's tennis, is to be revamped following a vote by national tennis federations.
The US$3 billion revamp, which was outlined by the International Tennis Federation (ITF) in conjunction with an investment group led by soccer star Gerard Piqué and backed by Rakuten chairman Hiroshi Mikitani, required a two-third majority of votes from the 140 nations involved at the meeting in Orlando, Florida.
​As a result of the decision, the tournament will be moved to the end of the year, with 18 teams taking part in the competition, with the World Cup-style finals to be held in either Lille or Madrid.
Qualification will be determined through home and away ties in February, with the 12 winning sides reaching the November showpiece, with the remaining six teams made up of two wildcards and the four semi-finalists from the previous year, who would receive automatic qualification.
The overhauled version of the competition received 71 per cent of the vote, bringing a major change to the 118-year-old international contest.
ITF president David Haggerty said: "I am delighted that the nations have today voted to secure the long-term status of Davis Cup by BNP Paribas. By voting in favour of these reforms, we will be able to work with Kosmos to realise the huge potential of the competition and elevate it to new standards. This new event will create a true festival of tennis and entertainment which will be more attractive to players, to fans, to sponsors and to broadcasters.
"In addition, the new revenues for nations that the event will generate will have a transformative effect on the development of tennis in all nations. Our mission is to ensure that this historic decision will benefit the next generation of players for decades to come."
Barcelona defender Piqué added: "Today is a historic day and we are convinced that the agreement ratified by the nations certainly guarantees the future of the Davis Cup and the development of tennis at all levels.
"This is the beginning of a new stage that guarantees the pre-eminent and legitimate place that the Davis Cup should have as a competition for national teams while adapting to the demands of this professional sport at the highest level.
"It is a great honour for me to be part of this historic process of a sport that I am passionate about and, without a doubt, in both personal and professional terms this is one of the happiest days of my life."
The annual tournament used to take place throughout the year, with the world's top 16 tennis nations taking part in a straight knockout competition, while the rest of the world was split into three regional divisions.
France won last year's competition, beating Belgium 3-2 in the final. News of the approved revamp leaves the ATP's plans for a World Team Cup somewhat unclear.