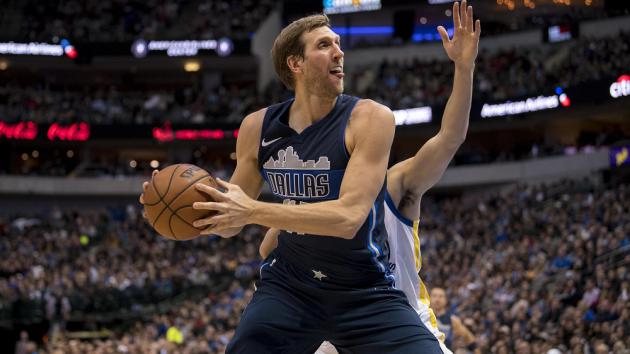 The Dallas Mavericks of the National Basketball Association (NBA) have created a new name for the franchise in China in an effort to rebrand the team in a country that represents the NBA's biggest global market.
The translation of the Mavericks' name in China means 'Little Cows', which the team felt did not reflect the meaning of their moniker in English.
Following a five-month rebranding campaign, the NBA side announced on Wednesday that their name will be changed to ' 独行侠 ' (DúXíngXiá) in China, which translates roughly in English to 'Lone Ranger Heroes'.
The search for the new name began in September 2017, and was selected through crowd-sourcing ideas on Chinese social media network Weibo in a campaign hosted by the Mavericks in partnership with Chinese technology conglomerate Tencent Sport.
The Texas-based side also consulted current and former Mavericks players, Chinese sports experts, legal analysts and linguists.
Over 50,000 new monikers are believed to have been suggested by fans, which were then narrowed down to a final three by the Mavericks and put to a final vote for Chinese fans. Mavs owner Mark Cuban then announced the result in a video posted on Weibo.
The new name, which won't affect the team's branding in English, is being used on the Mavericks' Chinese-language social media, and will be adopted throughout China's digital, print and broadcast media.
The franchise became the first NBA side to sign a Chinese-born player when they drafted center Wang Zhizhi in 1999.
"This is the beginning of a new chapter in the Mavericks' long legacy in China," said Mark Cuban, owner of the Mavericks. "With this Chinese name change, we've made history by giving our Chinese-speaking fans the opportunity to redefine our identity. I think that fans will be proud of this new name."
"A lot of times, in sports, you develop such an identity with that team, and you want to make sure that the title being used in front of your name accurately matches that," added Mavericks forward Harrison Barnes. "In China, we want that to reflect the same way and to have the same prestige."
"Making the Mavericks' Chinese name accurate means a lot," said Shi Yankui, director of Tencent Sports. "The inaccurate name has been called for about three decades, it's a historical change in NBA's development in China. It also shows that the Chinese fans have begun to embrace and take ownership of the NBA in new ways."
The Dallas Mavericks are 12th in the NBA's Western Conference. They lost 125-122 at home to the Golden State Warriors on 3rd January, and will host the Chicago Bulls on Friday.