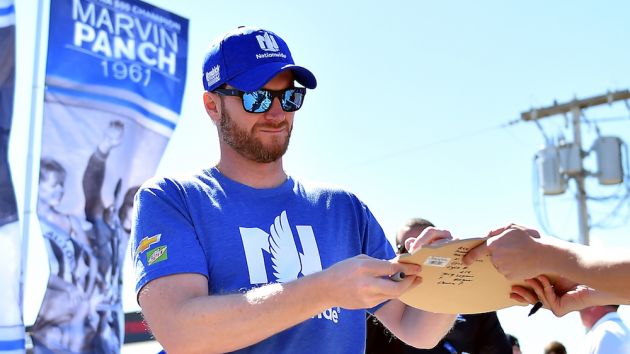 Retired Nascar driver Dale Earnhardt Jr. has extended his longstanding endorsement deal with Nationwide Insurance.
The 43-year-old American, whose 19-year run in Nascar came to an end after the 2017 season, will continue to act as a spokesperson for the company, attending national sales conferences and industry events as well as appearing in marketing campaigns and collaborating on community initiatives.
Earnhardt Jr. has endorsed Nationwide since 2008, his first season driving for Hendrick Motorsports. Financial terms of his latest deal, which will run for a multi-year period, have not been disclosed.
"I'm excited to be continuing my partnership with Nationwide," said Earnhardt, a two-time Daytona 500 winner who was regularly voted Nascar's most popular driver throughout his racing career.
"The relationship I have them is very special to me. They've been with me through most of my life — as a sponsor and also a company that I've come to depend upon to protect the many different aspects of my life.
"I'm proud to represent them and look forward to sharing my Nationwide experience with others for years to come."
Despite his retirement, Earnhardt Jr. will continue to help promote Nationwide's ongoing sponsorship of Hendrick Motorsports's No. 88 entry, driven by Alex Bowman, during this year's Nascar Monster Energy Series season.