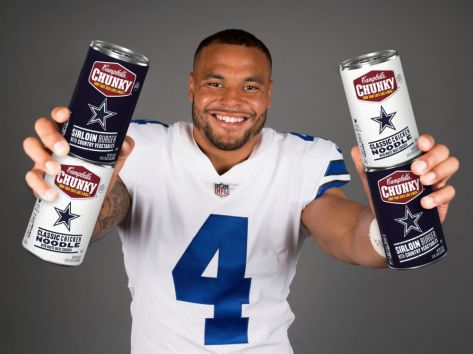 Dallas Cowboys star quarterback Dak Prescott has signed a multi-year brand ambassador deal with Campbell's Chunky Soup.
The former National Football League (NFL) Rookie of the Year has signed a contract until 2020 that will also see him continue to promote Chunky MAXX, the protein-packed range of soups.
The partnership with the American canned soup company is the latest in a line of endorsement deals that Prescott has penned in recent times. Campbell's Chunky Soup joins DirecTV, Pepsi, Tostitos, AT&T, Adidas, 7-Eleven, Beats by Dre, Panini, New Era, Keurig, Nicholas Air and Dannon in using Prescott as the face of its brand.
Prior to this most recent endorsement deal, Prescott had been projected to earn more than US$3 million last year in off-field contracts alone. It is a figure that comfortably dwarfs his annual contract with the Dallas Cowboys, where he is expected to earn US$630,000 this year.
With this new agreement, Prescott becomes the first NFL quarterback to sign a multi-year deal with Campbell's Chunky Soup since former Philadelphia Eagles player Donovan McNabb in 2001.