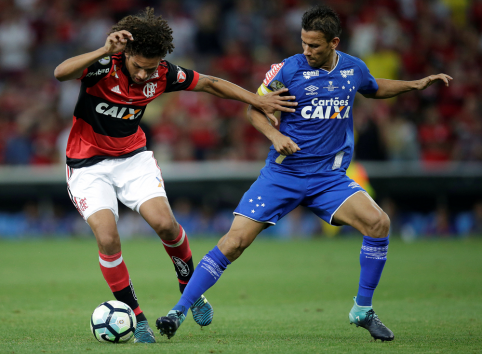 Top-tier Brazilian soccer side Cruzeiro have announced a partnership with Axial Medicina Diagnóstica.
The medical diagnostics firm will be a commercial partner of the Campeonato Brasileiro Série A outfit, and will also serve as the official medical team of the club.
Axial's branding will feature on the uniforms of the on-pitch medical team at Cruzeiro's games, as well as on the clothing of all the team's doctors and physiotherapists.
In addition, the company will have a presence on advertising boards at Cruzeiro's home matches.
Sergio Campolina, director of the Cruzeiro medical department, said: "In order to maintain the philosophy of the new board, which is to readjust and modernise our departments, we now have Axial. There is nothing better than being able to count on it, because it is a solid company, capable of meeting the demand not only of our club. Knowing that a company of this size will provide a good service to our athletes brings us great satisfaction."
Robert Pires, commercial director at Cruzeiro, added: "We have concluded a sponsorship with Axial Medicina Diagnóstica, one of the largest in the country. The company arrives to join its brand with the strength of our club.
"We are sure that this new partnership will bring to Axial numerous activations, and may even grow even more in the medical and sports diagnostics segment, responsible for generating a very large revenue."
Lenio Gávio, medical director at Axial, said: "Axial has always sought throughout its history to offer the best and most reliable diagnostic medicine service in the country. This allows us to attend top-level athletes from various national teams and clubs. The union with a team that continuously seeks to improve the performance of its athletes to seek titles is undoubtedly the consecration of this commitment."
Cruzeiro finished fifth in Campeonato Brasiliero Série A in 2017, securing qualification for the group stage of this year's Copa Libertadores, South America's premier club competition. They are currently top of the Campeonato Mineiro, the Mineiro state league, and beat EC Democrata 2-0 on 9th February. They will host Villa Nova MG in their next Campeonato Mineiro fixture on 17th February.