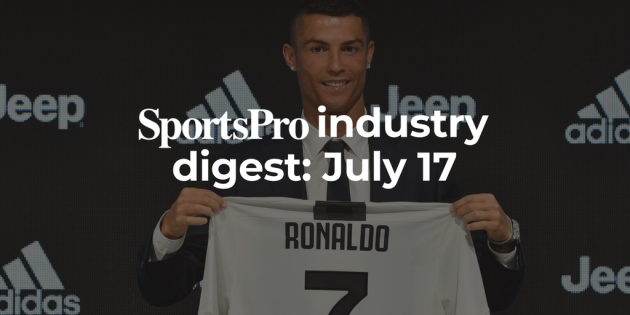 Top story
The arrival of Cristiano Ronaldo has already proved a huge commercial boon for Juventus after the club sold 520,000 official shirts bearing the Portuguese soccer star's name on the first day of their official release.
In context, the Italian soccer giants sold about 850,000 jerseys in the entire calendar year of 2016. Sales of Ronaldo's new number seven jersey have earned the Serie A club US$60 million in just 24 hours, almost half the player's Juventus total contract value.
Authentic Juve shirts retail for €104 (US$120), while a replica is about €45 (CAD $52). At minimum, the club earned US$27 million assuming all 520,000 sales were replica jerseys only. It could be as high as US$62.5 million in the unlikely scenario where all sales were of authentic jerseys.
Sponsorship
Top flight German soccer club Werder Bremen are set to renew their partnership with Volkswagen, according to Sponsors.de.
In England second tier, Charlton Athletic have extended their sponsorship with Betdaq of ahead of the 2018/19 season.
Japanese golf equipment manufacturer Honma has been unveiled as the new title sponsor of the Hong Kong Open golf tournament for the 2018 edition of the European Tour event.
ESPN announced its roster of sponsors for this weekend's X Games Minneapolis 2018. Nexcare and SoFi join the roster of official sponsors alongside returning brands Fruit of the Loom, Harley-Davidson, LifeProof, Monster Energy, Pacifico, The Real Cost and Toyota. Geico will once again serve as the official music sponsor. Explore Minnesota also returns as event sponsor with first-time event sponsors Go RVing and Hotels.com.
Personal Endorsement
Veteran German soccer star Bastian Schweinsteiger has become a new ambassador for bicycle brand Kettler.
Media Rights
Irish production house Pundit Arena has announced a partnership with The 148th Open, taking place at Royal Portrush Golf Club in 2019, to produce preview content for the UK-based golf major.
Investment
According to the Miami Herald, the National Football League's (NFL) Miami Dolphins are considering moving their training facility to team-owned land just west of Hard Rock Stadium in a privately financed move that would cost US$75 million.
German soccer club FC Schalke 04 has founded two new companies, one will focus on promoting the club internationally and the other will manage its burgeoning esports interest.
Station of the Day
London's transport bosses temporarily renamed an underground station in honour of England soccer team manager Gareth Southgate after the team flew home following their run to the last four of the World Cup.
Southgate led England to their best showing at the tournament since 1990 and narrowly missed a spot in the final, losing to Croatia after extra-time. The head coach became a cult figure with the fans for helping create a renewed sense of optimism around the national team and on Sunday Transport for London (TfL) rebranded Southgate underground station in North London as the "Gareth Southgate" station for 48 hours.
Paris was quick to follow London's lead in the wake of France's victory in the final, renaming six stations including the excellent Deschamps-Élysées Clemenceau.
Our industry digest will update throughout the day as deals break so check back to make sure you do not miss a story