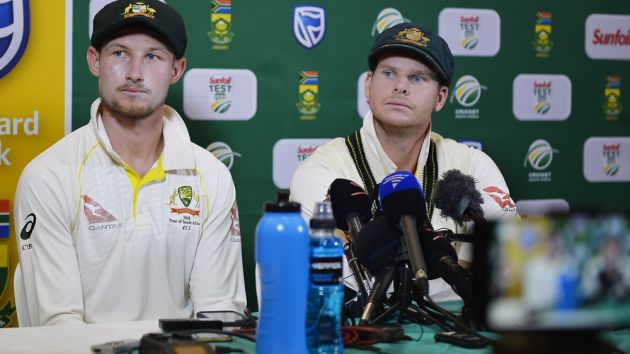 Magellan Financial Group has become the first major sponsor to terminate its contract with Cricket Australia (CA) after the ball-tampering scandal involving the national team.
The investment management firm only signed a three-year deal with the governing body in August last year to become the naming rights sponsor of Australia's domestic Test series, starting with the 2017/18 Ashes against England.
"A conspiracy by the leadership of the Australian men's test cricket team which broke the rules with a clear intention to gain an unfair advantage during the third Test in South Africa goes to the heart of integrity," said Magellan chief executive Hamish Douglass. "These recent events are so inconsistent with our values that we are left with no option but to terminate our ongoing partnership with Cricket Australia."
The decision came just one day after CA confirmed that it was imposing one-year bans on captain Steve Smith and vice-captain David Warner, as well as a nine-month suspension for opening batsman Cameron Bancroft.
The ball-tampering incident took place on Saturday during the third day of the third Test of Australia's series in South Africa. Television cameras caught Bancroft holding a foreign object while rubbing the ball in a move designed to help bowlers generate reverse swing. The 25-year-old proceeded to hide the object in his pocket, and then inside his trousers.
Once the incident had been shown on big screens at Newlands in Cape Town, Smith and Bancroft were immediately questioned by two on-field umpires. Smith later admitted that he and the team's leadership group had devised a plan to alter the condition of the ball, culminating in Bancroft using sandpaper to try and gain an unfair advantage.
In response, the International Cricket Council (ICC) handed Smith a one-match suspension and fined him 100 per cent of his match fee, while Bancroft was fined 75 per cent of his match fee and given three demerit points. Meanwhile, CA has since insisted that the plot involved only the three players sanctioned, and that knowledge of the scheme did not extend to the management team.
As well as lengthy suspensions, the incident has also resulted in Smith, Warner and Bancroft losing significant endorsement deals. Both Commonwealth Bank and breakfast cereal maker Sanitarium Australia have axed Smith as an ambassador, while sportswear brand Asics has terminated deals with Bancroft and Warner, with the latter also losing his sponsorship deal with Korean consumer electronics firm LG.