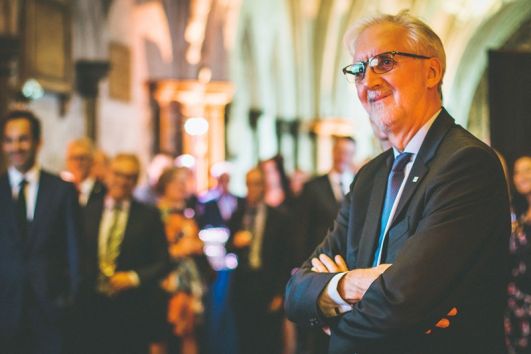 Former International Cycling Union (UCI) president Brian Cookson has confirmed plans to launch a Women's WorldTour team in 2019.
The Englishman, who was beaten in his bid for UCI re-election by David Lappartient of France in September, said in a statement that he would be 'exploring the possibilities of setting up a new professional cycling team structure' in the coming months. This venture would aim to 'meet or exceed the new high standards that are likely to be put in place by the UCI for the new two-tier structure for women's teams that was developed during my term as UCI president'.
Cookson announced his intentions late on Tuesday as he sought commercial support for the new team.
'I am not just talking about a top-level team in the traditional sense,' he wrote. 'There has never been so much interest in women's sport, fitness and health generally, and this is clearly reflected in the interest in women's cycling, not just at the elite level, but in terms of general participation. It seems to me that we are at a moment of real opportunity for women's cycling. We are at a pivotal point, a sea-change in attitude towards women's sport in the media and amongst the public is taking place, and we should seize this opportunity.'
Although he stressed that he is 'at the very beginning of the planning process', with no funding yet in place, Cookson said that he believed he could bring together, 'with a title sponsor, a unique combination of equipment and clothing manufacturers, universities and health organisations, vehicle and logistics suppliers'. He also suggested that a men's under-23, development, or full WorldTour team could emerge from the structure in the future.
During his time as UCI president, Cookson sought to position himself as an advocate for women's cycling. He established a women's commission under UCI vice president Tracey Gaudry in 2013, and oversaw the launch of the elite Women's World Tour last year.
Cookson has also confirmed plans to write a book about his experiences in the sport.
During the run up to this year's UCI election, SportsPro spoke with Cookson. You can read that interview here.