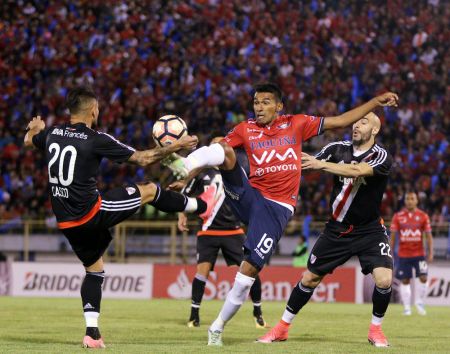 The South American Football Confederation (Conmebol), the governing body for soccer on the continent, has announced a major new partnership with global sports management company IMG and digital content specialist Perform.

The new deal will see both agencies provide consulting services as part of the marketing, sale and after-sale of commercial assets of Conmebol's continental club competitions - the Copa Liberatores, Copa Sudamericana and the Recopa - along with several other tournaments.

Under the four-year deal - which runs from 2019 to 2022 and is reportedly worth around US$1.4 billion - Perform and IMG will collaborate to create a 50/50 joint venture that will package and commercialise media and marketing rights to Conmebol's club competitions, including sponsorship and licensing.
The dedicated company will be financed and resourced by both firms equally, and will also consult Conmebol on the growth and development of its competitions, as well as digital strategy.
Perform and IMG's joint bid was one of four shortlisted by Conmebol earlier this month, alongside rival offers from Synergy Football - a joint venture between the Infront Sports & Media and Synergy Sport - MP & Silva, and Brazilian agency Sport Promotion.
This process marked the first time that Conmebol, which was left reeling after several of its top executives were charged as part of the Fifa corruption scandal of 2015, had offered a formal invitation to tender. Ten bids were initially entered for what are some of South American soccer's most coveted commercial rights.
"This contract represents a huge advance towards our strategic goal of generating more value for the development and growth of South American football," said Conmebol president, Alejandro Domínguez.
"We believed in big, we did things well, and today [Wednesday] we achieved a great result, since the guaranteed minimum represents more than double the income of the previous business cycle."
IMG is already the exclusive sponsorship sales agent for the Copa Libertadores, having been appointed to that role by Conmebol in February.
Ioris Francini, the co-president of WME | IMG, said: "We are delighted to have won this very competitive and highly-sought after business along with our partners at Perform.
"We will provide a bespoke and innovative solution, designed to radically enhance the commercial programme and presentation of Conmebol's club competitions, including the Conmebol Libertadores, Conmebol Sudamericana and Conmebol Recopa, and change the approach towards the core fans and the broader audiences too. This is a very exciting time for South American football."