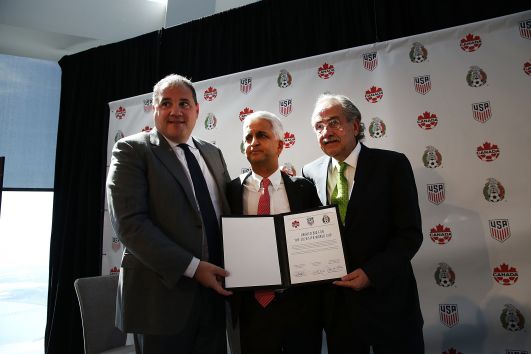 The South American Football Confederation (Conmebol), the governing body for soccer on the continent, and its ten member associations, have endorsed the United 2026 bid for the Fifa World Cup.
Backing was received from Argentina, Bolivia, Brazil, Chile, Colombia, Ecuador, Paraguay, Peru, Uruguay and Venezuela for the bid, which comprises the US, Canada and Mexico.
Conmebol in a statement: 'Taking into account the positive impact that the celebration of the Fifa World Cup in Mexico in 1986 and in the United States in 1994 had on the interest, development and projection of football in those countries and in general in the region, the member associations of Conmebol consider that, after three decades, the time is right to give new impetus to football in the Concacaf region, where more than 500 million people currently live.'
The support comes after United 2026 last month received similar support from the six voting members of the Central American Football Union (UNCAF)— Belize, Costa Rica, El Salvador, Honduras, Nicaragua and Panama.
The North American bid now has 17 of the 104 votes needed to win the hosting rights to the national team tournament, which will be determined at a vote of the Fifa Congress on 13th June in Moscow.
United 2026 is competing against a bid from Morocco, which has in recent weeks been endorsed by several European countries, including Russia, Belgium and France.
Alejandro Domínguez, president of Conmebol, said: "The countries of the Americas share many historical ties and our conviction is that South American football can and should contribute to the development of football throughout the American hemisphere, recognising the sport as a powerful integrating force."
'This announcement builds on the support of UNCAF's six voting member associations that the United Bid was honoured to receive in March,' United 2026 wrote in a statement. 'We look forward to continuing our conversations with Member Associations around the world, highlighting the operational and economic certainty of our bid for the entire Fifa family.'