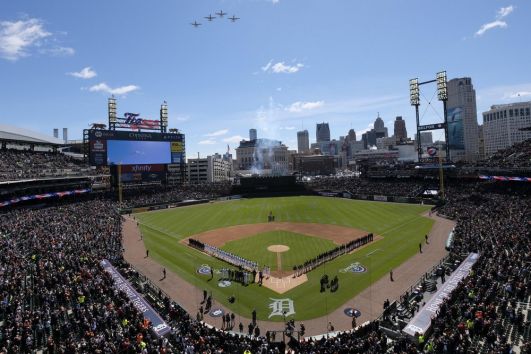 Comerica Bank has extended its longstanding naming rights deal for the home of Major League Baseball's (MLB) Detroit Tigers for a further five years.
The Texas-based financial services company's initial agreement was due to run until 2029, but the renewal ensures that the franchise's 41,000-seater ballpark will continue to be known as Comerica Park until at least 2034.
Comerica also confirmed that it will continue to run the Comerica Park Perks programme, which provides fans with discounted tickets, pre-game parties and other benefits.
Chris Granger, group president for sports and entertainment at Ilitch Holdings, the company which owns the Tigers, said: "The decades-long relationship between the Detroit Tigers and Comerica is authentic, steeped in tradition and ties together two household names in Michigan and across the nation."
Michael Ritchie, president of Comerica Bank in Michigan, added: "Comerica Bank and the Tigers have a rich history in Detroit, and our ballpark sponsorship has allowed us to celebrate that history while deepening relationships with our customers and strengthening our community."
The Tigers finished last in MLB's American League Central division in 2017. They will be hoping to fare better when they begin their 2018 season at home to the Pittsburgh Pirates on 29th March.