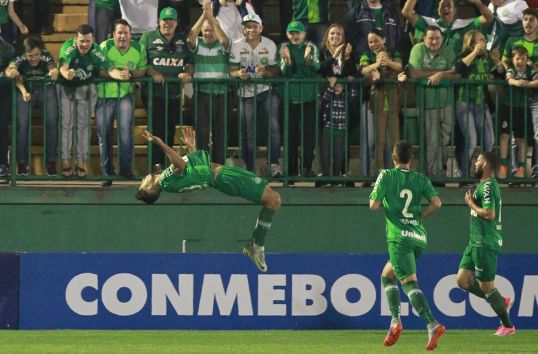 Top-flight Brazilian soccer side Chapecoense have finalised a one-year partnership with Sicoob.
As part of the agreement, the financial services company's logo will appear on the bottom of the back of the Campeonato Brasileiro Série A outfit's playing shirts for the duration of the 2018 season.
Additionally, Sicoob will benefit from a prominent presence at the São Paulo-based club's Arena Condá home and on their website and social media channels.
"We are very happy with this new partnership," said Plinio David de Nes Filho, Chapecoense's president. "Adding brands such as Sicoob's to ours is fundamental to the growth and success of the club. We are very pleased to have this partnership in this very important year for us. Like the partners who are already part of our family, we believe Sicoob will also add a lot to the club."
Pedrinho Vignatti, Sicoob's commercial manager, added: "Football is a collective sport that requires performance, unity and cooperation to achieve good results, just as it does in cooperativism, and it is in this spirit that Sicoob, the largest cooperative financial system in Brazil and Santa Catarina, forms this new partnership to further design these two winning brands in the state and in the country."
Chapecoense finished eighth in Campeonato Brasileiro Série A in 2017, one year after the club was struck by tragedy when a plane carrying the squad to the final of the Conmebol Sudamericana tournament crashed approaching Medellin, Colombia, killing 19 members of the team.