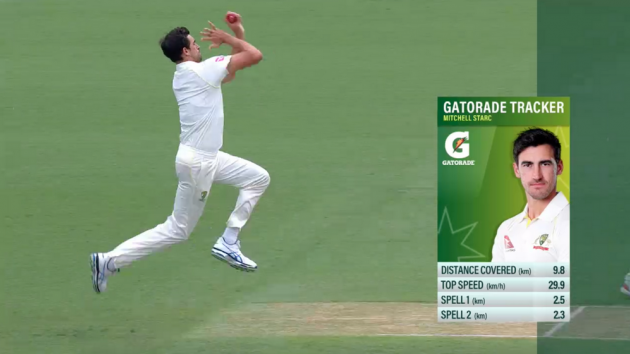 Sports performance analytics company Catapult Sports has created a new data visualisation tool for Australian free-to-air broadcaster Channel Nine's cricket coverage.
The 'Gatorade Tracker', which debuted during Australia's victory over England in the fifth Ashes Test match in Sydney, will use data supplied by Catapult's GPS-enabled tracking technology to provide Channel Nine with live data insights during games. The new platform will also be in place for the five upcoming one-day international (ODI) matches between England and Australia, as well as their three twenty20 games.
The broadcast overlay, which is sponsored by sports drink brand Gatorade, will allow viewers to see statistics for total distance run, top speed, and a sprint count. Catapult's proprietary performance analytics software Openfield will also make the data available to the Australian team during games.
Catapult, which is a longstanding partner of Cricket Australia (CA), has previously held similar wearable data commercialisation agreements with Australia's National Rugby League (NRL), Australian Football League (AFL) and National Basketball League (NBL).
Joe Powell, Catapult's chief executive, said: "We're delighted to be able to work in partnership with Channel Nine and our longstanding client, Cricket Australia. This is another exciting opportunity for us to showcase our credentials in providing live wearable data for broadcast, whilst helping our league-clients to drive audience engagement and incremental revenue."
Tom Malone, Channel Nine's director of sport, added: "We'd like to thank the Australian players and Cricket Australia for enabling us to bring our viewers deeper insight into what fantastic athletes these cricketers are. This is just the beginning. We look forward to continuing to work with Catapult on greater statistical analysis as the summer progresses."
Australia take on England in the first ODI at Melbourne's MCG on Sunday.