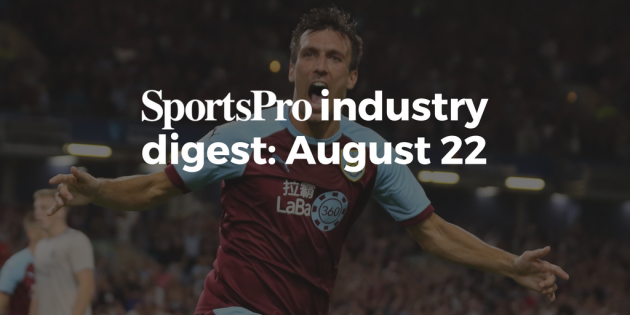 Top Story
Global sports provider Eleven Sports has secured live coverage of English soccer club Burnley's Europa League tie against Olympiakos in Athens on Thursday evening.
The first leg of the secondary European club tournament's play-off round sees the Premier League side face the 44-time Greek champions in a bid to qualify for the Europa League group stages.
Eleven Sports' UK subscription service launched earlier this month as an exclusively digital platform, with the Europa League qualifying tie joining live matches from competitions including Italy's Serie A and Spain's La Liga.
UK fans can access Eleven's service via its website, iOS and Android Apps, with a seven-day free trial of the UK£5.99 monthly pass available to new subscribers.
Burnley finished seventh in last year's Premier League but have just one point so far this season.
Sponsorship
Tennis Australia has signed a five-year deal to rename the Hisense Arena as the Melbourne Arena.
South African rugby union side Southern Kings have entered a three-year deal with motoring company Isuzu to become their new title sponsor.
Avis has extended their deal to be the official rental car company of the PGA Tour until 2022.
German soccer club Hoffenheim have extended their naming rights deal with energy supplier MVV Energie until the 2020/21 season.
Meanwhile, rivals Schalke have agreed a deal with Huawei brand Honor to become their sixth esports and gaming partner.
Media Rights
Sports broadcaster Univision Desportes Network (UDN) will show live soccer coverage of Germany's Bundesliga for the 2018/19 season.
Spanish broadcasters Mediapro has bought rights to La Liga coverage from Vodafone and Orange to be distributed in bars and clubs.
Eleven Sports has extended a deal to deliver live Bundesliga soccer coverage in Portugal from the 2018/19 season for three years.
Canadian Soccer Business (CSB) will partner with ThePostGame to represent its global media rights ahead of the launch of the Canadian Premier League (CPL) in 2019.
South African broadcaster SABC has agreed a deal to show one live Premier League soccer match every week.
Personal Endorsement
Indian cricketers Jasprit Bumrah and Bhuvneshwar Kumar have been named as brand ambassadors of footwear brand Asics.
Tennis star Serena Williams has topped a list by Forbes of the ten highest-earning female athletes – eight of whom are tennis players.
Smart Series
Gaming series Fortnite will feature at the Melbourne Esports Open, which takes place from 1st-2nd September.
Sports charity the Football Foundation has partnered up with MyLocalPitch to help digitally revolutionise the way players access their pitches, utilising data and new online booking systems to boost football participation.
Politics & Governance
The International Mixed Martial Arts Federation (IMMAF) and the World Mixed Martial Association (WMMAA) have announced a unified amateur MMA world championship will take place in November, in Manama, Bahrain.
Hard Sell of the Day
England cricket Test match venue Trent Bridge came under fire on Wednesday after having to overturn a decision to charge fans UK£10 to see the fifth day of the third Test between England and India – with the match potentially one ball from its conclusion.
Resuming on 311/9 while chasing a target of 210 more runs to win, England were one wicket away from defeat and the original release of ticket details had left fans bemused and angry.
Following the backlash, the decision was reversed and spectators were eventually let in for free. The game lasted just ten minutes (and 17 deliveries) as India wrapped up a convincing victory.
Our industry digest will update throughout the day as deals break so check back to make sure you do not miss a story