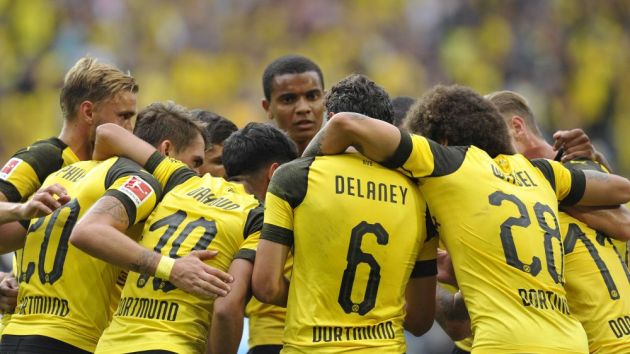 The German Football League (DFL) has approved the use of virtual advertising technology in German club soccer's top tier, the Bundesliga, following a successful programme of live testing.
The technology, produced by Supponor and Lagardère Sports, was trialled at the match between Bundesliga sides Borussia Dortmund and FC Augsburg on 26th February, with an additional world feed outside the German-speaking area broadcast live for the first time in international markets.
The live test was the last in a series of tests coordinated by the DFL, Supponor, Lagardère Sports and LED technology provider ADI.
Lagardère, through its exclusive strategic partnership with Supponor, first presented the virtual advertising to Bundesliga clubs in the spring of 2017, and the technology was trialled live for the first time at a match between Eintracht Frankfurt and VfL Wolfsburg on 6th May, though the TV signals were not broadcast to the public.
The virtual advertising technology leverages additional advertising space through the creation of broadcast standard virtual overlays of physical perimeter boards. This allows different brands to occupy the same space on existing boards and advertise to different markets.
Charlie Marshall, chief operating officer of Supponor, said: "Following a successful process of collaboration and technology integration with the DFL and partners, we have now made audience-targeted perimeter advertising a reality in the German Bundesliga. Supponor has enjoyed working closely with the DFL, Sportcast and Lagardère Sports in Germany over the past 12 months and our technology has grown ever stronger with their support.
"Everyone at Supponor is now looking forward to deploying our augmented reality technology to help drive the incremental value for our existing and new Bundesliga partners that comes from delivering audience-relevant, high-quality virtual LED advertising."
"We would like to thank the DFL for their close and trusting collaboration, and of course also thank our partner clubs who supported us during the test phase," added Philipp Hasenbein, managing director of Lagardère Sports Germany. "It makes us proud that we have once again been able to provide an innovation-driven impetus to the industry as part of this group. We are convinced that the use of virtual perimeter advertising will provide an enormous boost to the entire Bundesliga's internationalisation efforts.
"As an international marketing agency, the technology enables us to create added value for both rights holders and sponsors. We support our partners in further shaping their positioning in their respective target markets and in reaching their customers with targeted and country-specific advertising."