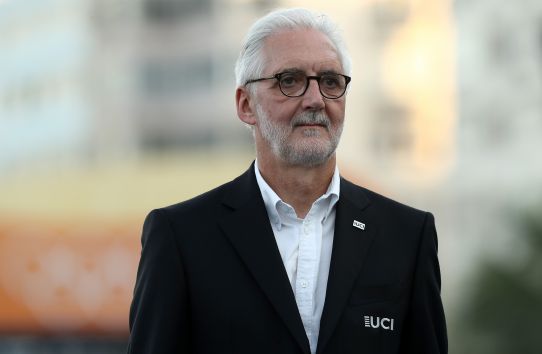 Former International Cycling Union (UCI) president Brian Cookson has partnered with the University of Central Lancashire (UCLan) and BeaconFell Limited to form an elite women's cycling team in 2019.
Cookson initially announced plans to launch a women's team last November, two months after losing the UCI presidency to David Lappartient.
The new outfit is aiming to compete in the top-tier UCI Women's World Tour, a global series of events covering more than 20 races in ten countries.
UCLan, which is based in the English city of Preston, is set to support the team's development in a range of areas including fitness testing, coaching, nutrition support, physiotherapy and medical assessments.
International non-governmental organisation (NGO) World Bicycle Relief has been selected as the team's charity partner, but there remains a major sponsorship opportunity up for grabs with the naming rights for the team still to be taken.
"There has never been a better moment for an initiative like this," Cookson said. "Over the last couple of years, the public have begun to show a real and hugely increased interest in women's sport of all kinds.
"Our ambitious plan is that this will not just become the best women's team in cycling, but that it will be a powerful tool for change in sport and in society - with a global roster of top women cyclists, the team will work with funders and sponsors to raise awareness of women's health and fitness issues, in ways appropriate to each society's culture, economy, and opportunities."
UCLan deputy vice-chancellor Liz Bromley said: "We have a wide range of expertise for the cyclists to tap into, including support with nutrition, strength and conditioning and regular fitness tests as well as helping to promote the team through marketing, business planning and media coverage.
"It's fantastic to see an increase in the number of women cycling competitively and creating role models for the future. The UCI and British Cycling have both committed to closing the gender gap in cycling and we are delighted to play a small part in this."
Commenting on the search for a naming rights partner, Cookson added: "This partner will probably be from outside the cycling industry - a company whose products, marketing and corporate social agenda can benefit from a high profile involvement in women's sport, specifically the best women's cycle racing team in the world."